Grass fires keep fire crews busy on Monday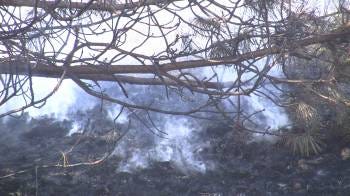 There was no shortage of small grass fires in Lancaster County on Monday.
A Denton man was lucky his home went untouched, after leaving a brush fire unattended on his property.
"He went to the house, came back, and it had crept up the sides and started about 20 acres on fire," said Pleasant Dale Assistant Fire Chief Roger Michaelis.
Other, smaller grass fires were reported across the county.
Michaelis says Monday's weather conditions weren't to blame for the high volume of fire calls.
"It's an ideal day to burn—just a little breeze. But, you've got to stay there and control it at all times," he said.
As a reminder, you should always check weather conditions—especially wind—before starting a controlled burn.
"Anything over 7, 8, 10 mph gets pretty windy and that's going to cause trouble," Michaelis warned.
And pay close attention to those flames during an open burn, especially with very brown and dry vegetation everywhere.
"You've got to have enough help to get it controlled and contained when you burn," Michaelis said.
You do need a permit for all open burning in Lancaster County.