Ground breaking at Piedmont Shopping Center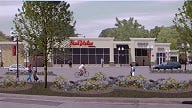 By: Jenn Hatcher
jhatcher@klkntv.com
It's been less than a year since businessman Steve Glenn
bought the Piedmont
Shopping Center.
He says he wants to keep part of Lincoln's history intact and thriving.
Tuesday, they broke ground on a multi-million dollar project,
giving the shopping center a facelift.
Improvements will include, new lighting, sidewalks, awnings
and more.
Much of the 57–year–old building will remain original.
"Many people remember K's restaurant and the supermarket
that was here and other things so it's part of Lincoln's
history and people want us to not forget that," says Steve Glenn, Owner of
the Piedmont Shopping Center.
The city donated $750,000 from left over tax funds, Glenn
will pick up the rest of the renovation costs.
The project should take a little less than six months to
complete.
Ole's Shoe & Boot Repair owner, Jay Haes, says he's happy
to see new life in Lincoln's
oldest shopping center.
He's been a tenant for three years.
"This center will be for everybody in this town of Lincoln because there's
going to be so many different businesses," says Haes.
Just a short time ago the shopping center was at less than 50
percent occupancy.
By May, they'll be at 80 percent.
Glenn explains, "We have five new companies coming, we
soon hope to have a new restaurant tenant here, which we think Lincoln will really
appreciate."
No word on what some of those new Piedmont businesses will
be.
Glenn hopes to have a ribbon cutting before Labor Day.