Groundbreaking ceremony held for CBA building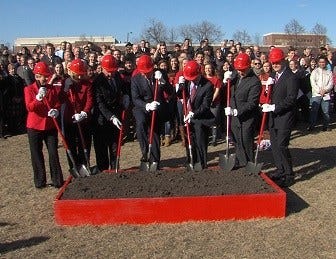 Posted By: Jenn Hatcher
jhatcher@klkntv.com
Lincoln, NE (UNL Newsroom) _ A groundbreaking ceremony for a new College of Business Administration building at the University of Nebraska-Lincoln was held Wednesday afternoon.
Expected to open before the fall 2017 semester, the $84-million, 240,000-square-foot facility would be the largest academic building project in UNL's recent history. Designed by Robert A.M. Stern Architects of New York and Alley Poyner Macchietto Architecture of Omaha, the building will allow the college to offer interactive learning in state-of-the-art classrooms.
It will feature a finance laboratory with unique technology and data software to enable cutting-edge education in finance and investments. The building also will provide one-stop student support services, innovative technology and space for hosting future events.
"The new facility will allow us to grow in ways that otherwise could not happen," said Donde Plowman, the James Jr. and Susan Stuart Endowed Dean of the college. "It will allow us to become a central hub of business education for this campus and for the Nebraska business community.
"This project is a testament to our alumni's generosity and the strength of our college's community. The building is funded by private donations from our alumni for future alumni."
The new building will celebrate the college's 100-year legacy of educating business leaders in Nebraska.
"It is time we have a new facility for the College of Business Administration," said University of Nebraska Regent Howard Hawks of Omaha. "Today's student body has more collaboration and interaction than those of us did in the time frame when I attended. It will be more than new classrooms. It will have a personality of its own that would cause you to want to be there."
It will help recruit top students and faculty to UNL, leaders said.
"The new building is a great opportunity to create a 21st-century learning environment that will help us attract the best and the brightest," said Tonn Ostergard, chair of the CBA Capital Campaign. "Yet the building itself is not the most important thing. It is all about having premier programs and faculty to lead and attract the best students."
"The momentum of this new building campaign reflects the positive trajectory of the college," Plowman said. "We have continued to grow our enrollments of first-time freshmen each of my years at Nebraska. Our business minor program for non-business majors attracted nearly 1,300 students in just two years. To account for these increases, we have added 36 new faculty in the last four years and are recruiting another 20 this year. With all of this positive growth, I am proud of the great programs we are growing to go inside this new building."
Those interested in donating to the project can contact the University of Nebraska Foundation at 402-458-1100 or go to http://cba.unl.edu/building.