Group of Vietnam Veterans Travels to York for Reunion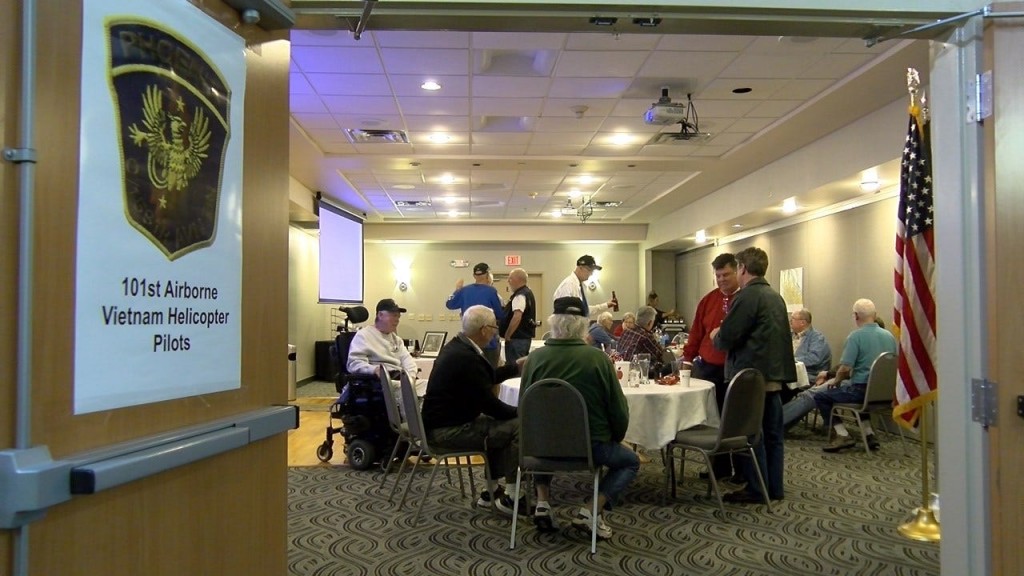 Just over a dozen members of the 101st Airborne Division – a group that flew helicopters during the Vietnam War – gathered at the Best Western Hotel in York on Wednesday night.
The group, which flew combat missions from roughly 1970-1971, has spent the past four decades meeting at different places across the country as as way of keeping in contact.
The reason they met in York this year is because own of their own, a veteran named Kenneth Mayberry, is bound to wheelchair after years of fighting multiple sclerosis.
"He can no longer travel," said Ted Olsen, a friend of Mayberry.
"We, at the same time, are unwilling to get together if he's not with us. So we come here."
After flying countless combat missions as members of a unit that suffered some of the highest casualties in the war, the group has forged a bond that has stayed strong for decades.
"When you're getting shot at, you tend to form a big bond," Mayberry said.
"When you live and die together, you get tight."
Tight is a good word to describe the group, says Pat McKeany, who helped organize the meeting last month.
"We had this code that, if one of us was shot down, that the other one would go in there and pick you up," McKeany said.
"No matter how bad it was, you would go pick your buddy up. And that created quite a friendship and a bond."
It's that bond that keeps them getting together, sharing life and sharing old stories.
McKeany recalls when several of the men were at a bar in Vietnam.
"This guy was getting bothered by a dragon fly that happened to be flying in the bar," he said.
"We're all joking and laughing, and he was tired of that so he threw a dart and he hit the dragon fly and pinned it to the wall. So, we had some good times. We had some laughs."
Those laughs are just as present today as they were then, and, seeing the group of friends smiling as they passed the time together, nobody would ever expect that McKeany was recently diagnosed with cancer – believing it's a result of the Agent Orange chemical gas he was exposed to during the war – and that he has maybe five years to live.
"That's one of the main reasons everybody came together," Mayberry said.
"Because it could be the last time we're ever going to be again."
To some, it may seem crazy – to drop what you're doing at the last minute and travel halfway across the country.
But from a group whose motto for decades has been 'Leave no man behind,' you may be crazy to expect anything less.
"How much longer we'll be able to do this, we don't know," Olson said.
"But, while we can, we're going to keep it up."