Guard museum has shot at TV debut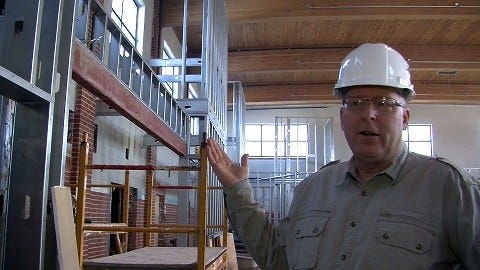 Posted By: Jenn Schanz
jschanz@klkntv.com
It's still under construction, but staff at the new Nebraska National Guard Museum in Seward have big plans; starting with a unique exhibit.
They recently reached out to designers from the History Channel show "Museum Men" for help.
The show documents expert designers giving museums make–overs by creating high–tech exhibitions.
The owner of the design company featured on the show, Roger Barganier has taken some interest in the National Guard Museum.
"All of a sudden we get a call from him saying I'd like to come up and visit Seward, Nebraska," says the Museum's historian, Gerald Meyer.
And next week he will.
Meyer says this is a chance to put Seward on the map, as more than just the Fourth of July city.
"You look at your phone and you see Tampa, Florida and you're like, who's calling me? And then it's Roger the guy who owns the company you see on the show and you're like this is for real, this guy is serious," Meyer says.
The Museum houses thousands of unique military artifacts; if chosen, Barganier's company would select one of many proposed exhibits to build.
One idea museum staff is hoping for is a state of the art antique plane replication of a 1913 Curtiss Model D.
I spoke to Barganier over the phone; he says he never wanted to be a reality star, but the show accomplishes an important goal.
"We thought it would be a great platform to expose people, younger audiences to museums that had never really thought about going to a museum," he says.
"The thing that we get out of it, is an opportunity to get a very high tech display. And really that's what it's all about," says Meyer.
Barganier will visit the Museum Feb. 12th-13th.