Hail Damages Cars In York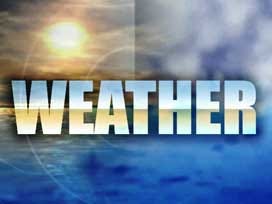 Heat wasn't the only extreme weather of the day.
A sudden storm Monday morning caused thousands of dollars in damage to a York business.
Between 7 and 8 Monday morning a severe thunderstorm rolled through the area and hit York pretty hard, not with rain but with golf ball sized hail.
Now the manager of a York car dealership is trying to decide how to handle his lot of heavily dented vehicles, on a day when so many were worried about the sun and heat…
Tim Bunn and Moses Motors had a different kind of extreme weather on their hands.
Golf ball sized hail pounded the lot where Bunn's livelihood sits for sale.
Causing more than $100,000 dollars total from damage to more than 50 vehicles.
Bunn's seen a lot in his twenty years in the auto business but he says he's "never seen hail like that."
The heavy hail blew out one car's back windshield, took chunks off the sign, busted the stud off this atenna, and damaged mirrors.
But on the bright side, Bunn said they sold about 40% of their inventory last week.
So fewer cars were on the lot when the hail hit.
And he knows, despite hail, it could be worse the way the auto industry's been hit as a whole.
"It's good to be a Ford dealer right now…at least we're not bankrupt," Bunn said.
For the cars that took it hard, Bunn says they'll try to repair the ones they can and offer a discount on the ones they can't…up to $4,000 dollars.
"In my years in Nebraska I've never seen it like that to that extent and then to turn around and be so hot and humid."
Now that the sun's out again, he's working on pounding out the dents and doing what he's always done, getting customers to drive his cars off the lot.
Once the adjuster comes out to get an expert look at the damage, then Moses Motors will start pricing some of the damaged cars with those big discounts.