Hallam stronger than ever on 10-year-anniversary of tornado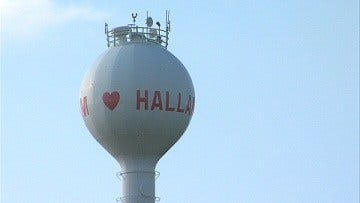 By: Brittany Paris
bparis@klkntv.com
The town has picked up the pieces and rebuilt since that horrific tornado, but the anniversary is bittersweet for Hallam residents.
It's a day filled with good friends and good food.
May 22 is also a day Hallam will never forget. It's now been a decade since the small town was leveled by an F4 tornado.
Larry Linkens and his wife, Kathy are longtime residents of the town.
"Yeah. It seems like a long time ago now," Kathy said.
"We came in. No trees. No nothing. Just speechless," Larry said.
Larry and Kathy were near Princeton when the twister hit Hallam in 2004. They drove in to find their home destroyed.
"It looked like a war zone," Larry said.
The tornado was on the ground for 52 miles, traveling from Daykin to Palmyra. At the time, it was a record-breaking 2.5 miles wide. Hallam didn't stand much of a chance and every building suffered damage.
But it didn't take long for the town to pick up the pieces. And today, the community is stronger than ever.
On the anniversary, the fire station grilled up burgers and hot dogs as a way to mark how far they've come.
There are some people who want to commemorate the event, and others who have put the past in the past.
"I think town's pretty well past it. I think they like to be past it. A lot of things are starting to come back and we have our own new landmarks now with different trees coming up and different houses and things," Duane Askamit, Hallam Fire Chief, said.
One woman we spoke to off camera says she thinks about the tornado daily, and doesn't know if her home will ever be what it was.
Kathy says she's moving on and she feels like much of Hallam is, too.
"I guess I don't think about it. I haven't really thought about it too much unless somebody's talking about it. Just when the wind blows," she said.
Askamit says Hallam is way more prepared now for a tornado than it was ten years ago. Most of the homes were rebuilt with basements and storm shelters. And people are a lot more cautious when the sirens go off.