Have you seen this sign? Lincoln man wants you to be aware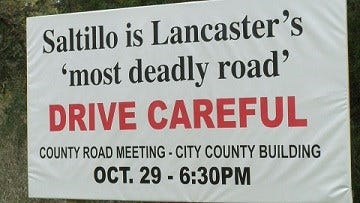 Posted By: Reid Kilmer
rkilmer@klkntv.com
Next time you're driving near 51st and Saltillo you may see a sign on the side of the road. It was put up by Jim Becker who's lived near the street for over 30 years.
He says he's worried about the safety for his family, neighbors and the public.
Becker said, "This was the way to get to the people that drive this road was put a sign up and it's obvious that's the way to do it because that many people see that are driving on this road and everybody's aware of this."
Becker says the heavy traffic causes too many accidents and wants something done about it.
The South Beltway proposal from Nebraska's Department of Roads would divert traffic flow away from Saltillo and residential streets.
It's a project first brought up in 2002, now in 2015 the project is waiting on an "environmental assessment" in order to continue progress.
Becker says the lack of urgency is upsetting.
Becker tells Channel 8 Eyewitness News, "The lack of response from the county, the county commissioners, county engineers is really bad."
There have been a couple of accidents that have happened in recent months.
One in May was on 54th and Saltillo involving 3 cars resulting in a man being life-flighted to a hospital.
Another accident on 54th in July ended up killing a bicyclist.
Don Miller who lives off of Saltillo says the roadway is dangerous and people treat it like it's the interstate.
Miller said, "It's just how many people have to die before we get the South Beltway going."
The South Beltway's design hasn't been released yet.
Once finalized and approved, construction is expected to start sometime between 2020 and 2023 and take 5 to 7 years to complete.
If you're interested in attending the meeting to testify what you would like to see done on the road with the Lancaster County Board of Commissioners it will be held at the County City Building, October 29th at 6:30 p.m.