UPDATE: Hazmat situation forces evacuation of Jefferson Community Health Care Center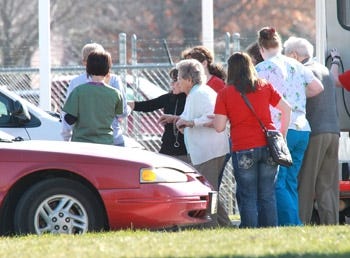 By: Cole Miller
cmiller@klkntv.com
A chemical spill in Fairbury forces more than 80 people to evacuate. The Jefferson Community Health Center got a quite the scare today.

First, some good news. We just learned that patients are now being allowed back in to the building as of 9 p.m.

Officials on the scene say this was a pretty bad chemical spill, but we're told it's been cleaned up and the hospital is functioning once again.
The call came in a little after 12 p.m. Friday when someone noticed a hazardous chemical leaking in the health center's laundry room. A spokesperson for the center says Fairbury Fire and Rescue were called and the Beatrice haz mat team backed them up. That's when they realized they needed even more help.
The 72nd Civil Support Team, a National Guard unit, then took over at around 4:30 p.m. A spokesperson says in all 4 hospital patients, 38 nursing home residents and 46 residents from an assisted living unit were evacuated.

"We evacuated the entire premises. We really believed that safety was more important than anything else, that was our top priority and we wanted to make sure that our staff, our patients, our residents and our tenants were all in place that was very safe," Lana Likens, Jefferson Community Health Center Public Relations Director, said.
No severe injuries have been reported, but we did learn that some of those evacuated were complaining of minor respiratory problems. As far as what the leak was, we were told the test results came back "inconclusive."

Again, residents are being let back in to the health center at this time. We're told the hospital will be back up and running tonight.