Heat exhaustion takes toll on capital city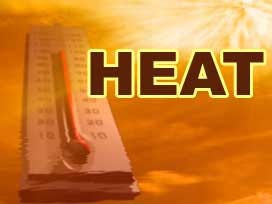 As the temperature rises, so does the need to stay safe. Nebraska is just one of 20 states experiencing the scorching heat and those high temps are taking their toll on people around town.
Emergency personnel have been especially busy during the hot weather, responding to many incidents of heat exhaustion. Justin Johnson says he just wanted to walk off some stress Tuesday afternoon, but with the sixth straight day of a heat index well into the one hundreds, he didn't make it too far. Johnson says, "I, felt a little nauseous and dizzy and vomited. Somebody stopped and asked if I needed some water and someone else stopped and called the paramedics."
Johnson's not the only one. Thousands across the Midwest have been hurt by the hot weather.
LFR Acting Captain Dallas Fletcher responded to the call. He says there are some tell-tale signs of heat exhaustion. "If you're sweating, you're obviously hot, if you start to get any kind of nausea, vomiting, headaches, cramping, anything like that, that's kind of a key sign."
Already this week, there have been 13 deaths in the 20 states currently under a heat advisory.
Fletcher advises on very hot days, stay indoors. If you do have to be outside, go out in the morning or at night when it is coolest. Also, drink plenty of fluids. Firefighters are also adamant if you are outside that you stand in the shade. He says many would be surprised how much that helps, even if it's just for a few minutes.