Helicopter crashes just east of Lincoln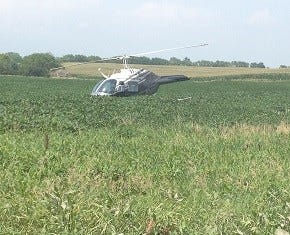 By: Channel 8 Newsroom
8@klkntv.com
A helicopter pilot was forced to make a crash landing just east of Lincoln Saturday afternoon.
Authorities said the Florida pilot was crop dusting, flying at about 80 mph, ten feet above the ground when he experienced power failure.
The man landed in a bean field just off of 112th and Yankee Hill Road.
Officials said the propeller hit the tail boom and chopped it off.
The man is fine and the Lancaster County Sheriff's Office is looking into the incident.