Higher temps keep emergency crews busy with water issues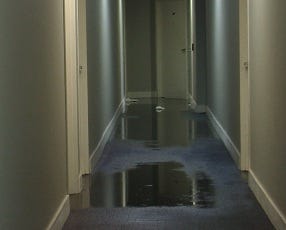 By: Bill Schammert
bschammert@klkntv.com
A welcome temperature change for many meant a busy, wet day for Lincoln's emergency crews.
Lincoln Fire and Rescue responded to about half a dozen broken water pipe calls throughout the day – some that caused extensive damage.
Crews were called to the third floor of the Lincoln Building around 2:00 p.m. Tuesday to a pipe burst.
"It was basically just a bog, an enclosed area of like two or three inches of water," tenant Cassie Newell said. "And the smell, it was just not good."
Newell says when she first saw the water, it looked like a river running down the back fire escape.
Almost the entire third floor was completely saturated. LFR says a tenant on the floor moved out and turned the thermostat all the way down, causing the pipes to freeze.
"Water gets cold, it freezes, it expands and then when it thaws, the pipes break," Assistant Chief Pat Borer said. "Then of course it has a pathway for that water to run because there's no shut off to it."
There's no damage estimates yet, but Borer says the water seeped into several apartments on multiple floors.
"It can fill up a room or a basement very quickly, we all know water soaks into everything, so it can be very costly," Borer said.
Borer says LFR also responded to broken water pipe calls on Tuesday at the Gold's Building, Huntington Elementary and the Embassy Suites.
Here are some tips to keep your pipes from freezing:
– Use some sort of insulation around exposed pipes, such as foam.
– When it's extremely cold, let water slowly drip out of the faucet. It's much more difficult for running water to freeze.
– Also, you can leave your kitchen cabinets open so the heat inside your home keeps the pipes warm.
If you notice your pipe has already frozen, call a plumber immediately. If the pipe breaks, quickly shut off your main water valve.
You can also try to unthaw the pipes with a hair dryer, but never an open flame.