Hill Elementary students learn Chinese culture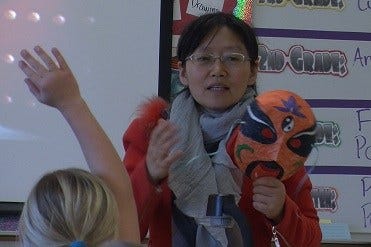 Posted By: Nolan Crane
Students at Hill Elementary School are learning about Chinese art and culture thanks to a special teacher. Here's Friday's, April 3rd's "Excellence in Education" report.
Lihua Xu is a guest instructor from China. While she's here in Lincoln she's visiting different schools. For the past six weeks she's been at Hill Elementary. The students in this class are learning about traditional Chinese art by making masks that are worn my performers and actors in Chinese operas. The students learned the color of the masks has a meaning.
"I remember one of the colors, red means loyalty," says William Bohling.
"It was really fun because we got to do our own designs and our own colors," says Olivia Kremer.
"My responsibility is to teach the kids art and Chinese culture," says Lihua Xu.
In addition to coloring the students also learned some traditional Chinese dances. About every six weeks Xu will go to another school and teach other LPS students Chinese culture.