Updated: Tornado destroys home near Cornlea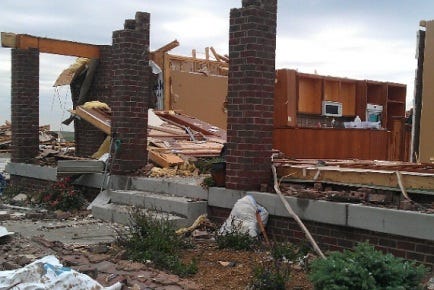 By: Newsroom
8@klkntv.com
A rural Platte County family is without a home after a tornado levels their house Thursday night.
It happened about 30 minutes north of Columbus at around six o'clock Thursday. The twister ripped off the roof and left only a few walls standing. Piles of wood and insulation sit where the house used to stand.
The owner of the home, Bryan Herchenbach says he, his wife and their three children took shelter only seconds before the twister hit. The Herchenbachs say they're grateful to be alive and not hurt.
"It cut across the road and just took the house and the windows crashed out. I could hear the roof of the house be lifted off just kind like what everybody says it's a freight train that's what it sounded like it just happened so fast and as fast as it hit it was pretty much over too," said Bryan Herchenbach.
After the twister ripped through his farmhouse, Herchenbach says around 150 people came from surrounding towns to help. Herchenbach says there are no words for his gratitude. Herchenbach says he plans to rebuild. In the meantime, he says he and his family can stay with his parents who live close by.