Home stretch for Lincoln Race Course before shutting gates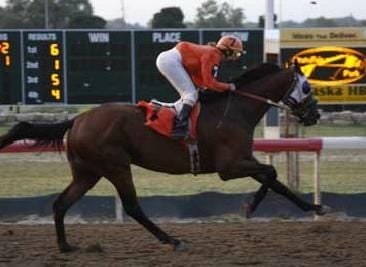 By: Cole Miller
cmiller@klkntv.com
It's the home stretch for the Lincoln Race Course before the gates close for good, but many fans hope it's not the end of the sport here in town.
After this weekend, live horse racing will end here. It's bitter news for track veterans. "It's just a nice track and it's exciting to be here the last weekend I guess," said Larry Codr of Dwight, Neb.
And newcomers like Kelsie Ness, a first timer who won big on her very first try. "Got to pay $20, put it on number six, my daughter told me to and we come out winners!" she said.
To say thank you, the race course will hold a fan appreciation night July 8th. One lucky winner will be going to the 2013 Kentucky Derby, but some of the hardest hit by the close are the workers just like Gavin Nix and his family, although they stay optimistic. "It's going to be hard but it's going to be good. I mean, we'll make it. We mad it here, we made it this far and Lincoln Race Course, we are strong. We're going to continue to be strong no matter what," said Nix.
As the final races are ran here at the Lincoln Race Course, many are hoping the sport will go on in the near future. That's the goal of one group. A new track has been proposed near Highway 77 and Denton Road.
An official says they feel good about getting City Council approval. So until then, everyone hopes to come out a winner.