Homestead Nat'l Monument welcomes new citizens on Flag Day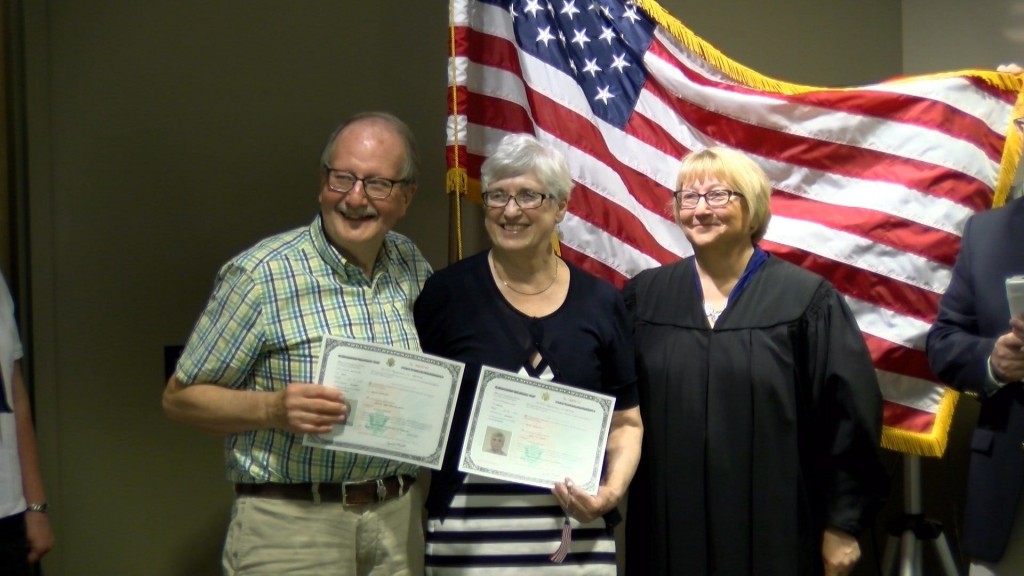 Posted By: Bayley Bischof Channel 8 Eyewitness News
On a day meant to honor the American flag, 34 new citizens adopted it as their own.
A naturalization ceremony took place at Homestead National Monument on Wednesday,
Michael and Freda Gregg came to the U.S. from Ireland in 1983 for work, so this ceremony has been a long time coming.
"Long time! We finally decided to become citizens," Michael said.
They're just now citizens after 34 years, but they call Lincoln home.
"We love Lincoln. Everybody's so friendly. We really feel at home here,"
Freda said.
And for this refugee couple from the Congo, American citizenship a second chance.
"I want this for long time, I'm proud to be American so I am sooo very very happy," Carrana Kapinga said.
She got her citizenship today, while her husband, Olivier Musungay, will receive his by next year.
Musungay said he is grateful for the opportunities in the U.S. that he didn't have in Africa.
"Now I can do and say in English," Musungay said. "I go to college, I know I'm gonna graduate soon and I'm gonna get a good job."
But Wednesday's ceremony was about more than just the 34 immigrants.
It happened on Flag Day, a day to commemorate the adoption of our stars and stripes on June 14, 1777.
Magistrate judge Cheryl Zwart reminded the audience how much this day means.
"It's a symbol of our unity, our power, our thoughts and our national purpose," Zwart said.
Naturalization ceremonies only happen at Homestead National Monument twice each year– Flag Day and Constitution Day.
They love to honor their history with these ceremonies, Susan Cook said.
"Having a naturalization ceremony is a natural fit for what Homestead National Monument is all about," Cook said. "We're here because of the Homestead Act of 1862 which allowed people from all countries around the world to be able to move here and own 160 acres of land."
For these citizens, the ceremony marked a new beginning, while offering them a look into their new country's past.