Horrifying grain accident sends safety message to local farmers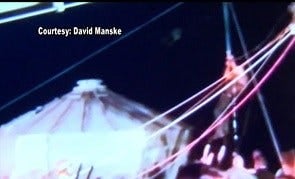 Posted by: Kelsey Murphy
kmurphy@klkntv.com
A farming job nearly turned tragic.
Monday night, Marvin Manske was unloading corn in a grain bin when he got stuck, trapped from the chest down.
Officials believe a jammed auger is responsible for sucking Manske into the corn. Crews, using special equipment, were able to release Manske from the bin.
Manske was airlifted to an Omaha hospital, he is expected to recover.
The close call reminds local farmers just how dangerous the job can be, sending a message to be safe.
"It does cause you to stop and say you know what maybe we should just take that extra minute and do what we need to do to make this a safe environment," says Vaden Hellerich.
The local farmer is preparing for harvest, unloading his own grain bins.
"I would say a grain bin is no more dangerous than any other piece of equipment out here on the farm it just understands what those dangers are," says Hellerich.
Dangers like running augers or a layer of loose corn resting in the bin.
"It basically creates what you might say is a false floor," says Hellerich.
He understands that accidents happen, but is hopeful that with the right precaution these accidents can be prevented.