Jefferson County seizes horses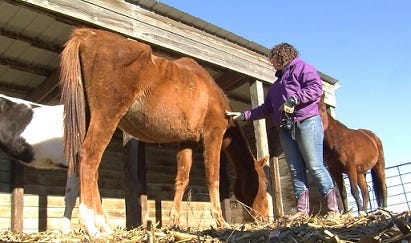 By: Cole Miller
cmiller@klkntv.com
More than 3 dozen horses are being removed from what used to be a horse rescue in Jefferson County. It's not setting well with the landowner.
Lin Beaune is in shock, walking around what used to be a horse rescue in Jefferson County.
"I'm aghast…it's horrific," Beaune said.
The founder of Epona Horse Rescue in Crete, Beaune says many of the 41 animals are in very poor shape.
With hardly anything to eat.
"There's just no food. They've eaten the dirt, there's nothing left," Beaune said.
The owner of the land, Carmen Olson, knows things are bad.
"We've got horses down there standing on their feet dying," Olson said.
Olson says her ex–boyfriend started the rescue but she says she hasn't seen him for months.
She says he doesn't own any of the horses and she's the one with the paperwork, but he's relinquished them to Jefferson County authorities.
"What do you want me to do, sit back like everybody else and watch them die? I can't do that. I didn't get them to abuse them," Olson said.
Olson says she'll give up the horses, but not to Beaune and her group.
"I, myself, will relinquish them. She can't feed her own so why does she want more," Olson said.
Beaune admits she's at capacity, but is hoping to reach out to rescues across the country.
"The hope is to get rescues united, get everybody working together," Beaune said. "Let's find the horses homes. Let's get them off this property and straight into homes so they aren't going to rescues, to facilities that are already overburdened."
Beaune says she hopes to get a vet on the scene to assess just how much work the animals need.