Horse rescue from frozen pond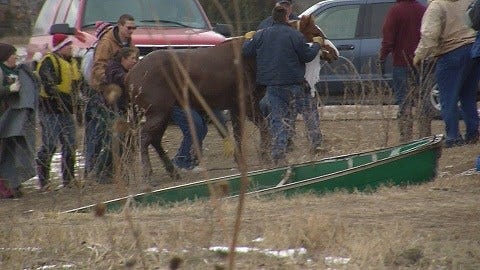 Posted By: Reid Kilmer
rkilmer@klkntv.com
A horse was trapped in frozen water for over a day near Waverly Road. Rescue crews used chainsaws and several tools to free the animal from the pond.
Shane Cuttlers, the Assistant Chief at the Raymond Fire Department, said "We had several people with ropes on the horse to try to keep it under control so it wouldn't panic. We had some rams that Lancaster County Sheriffs had so that we could bust through the ice. We had a chainsaw that was cutting the ice, we used our pipe poles to move the ice and get it out."
The pond was five foot deep surrounding everything but the horse's head with ice. Once the horse was pulled to safety, veterinarians covered the animal with blankets and rushed it indoors to warm temperatures.
The horse's owner said he's thankful for everyone's help with today's rescue.