Horses reunited with owner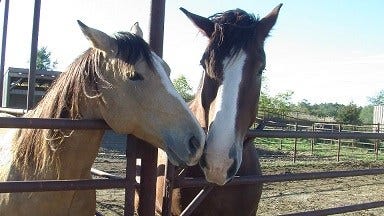 Posted By: Jenn Hatcher
jhatcher@klkntv.com
Five horses and a donkey were found roaming southwest of Lincoln on Sunday. Ironically, the owners of Lincoln Equestrian Center were the ones to find the animals. "Horses are built to travel so I think they made the rounds and I'm glad they ended up here," says Zack Hamilton with Lincoln Equestrian Center.
They boarded the animals and posted to Facebook, hoping to find the owners. Over 300 shares later, the post has been seen by over 27,000 people. Tuesday morning, the owners were found. They're neighbors from two miles up the road. Owner, Josie Kranz says her pack of pets live in a wooded area, she sometimes goes days without them being in view. So she didn't know they were missing until her mom told her about the Facebook post.
Later in the day, a trailer took the animal's home.
"I have four kids, they each have the horses, they love them, we really love the horses, and they bring a lot of joy to us so we're really happy that they were… They found a good spot to sit until we found them," explains Kranz, who believe deer broke the fence on their property.