Hostage situation unfolding in Barcelona after van hit, killed pedestrians in busy tourist area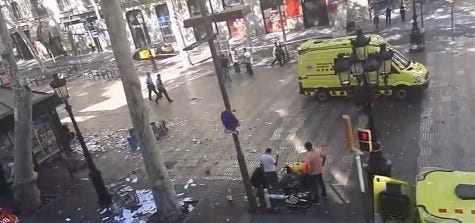 By: Channel 8 Eyewitness Newsroom
8@klkntv.com
A hostage situation in Barcelona is unfolding after a van struck and killed multiple pedestrians in a busy tourist area this afternoon.
Two police sources told ABC News there are two hostage takers.
Earlier, a van slammed into pedestrians near Catalunya Square in Barcelona's Las Ramblas district. Authorities have not confirmed how many people were killed or injured.
An eyewitness told a Spanish television station that the suspect was running people over in his van for nearly 1,000 feet before fleeing into a nearby Turkish restaurant.
The witness said the suspect had something in his hand but he could not tell what it was.
"We cannot say the reasons of this attack," Catalonian police wrote in a post on Twitter.
Las Ramblas is a popular tourist area in Spain's second-largest city.
The Barcelona transit system posted a message on its official Twitter account that numerous subway stations are closed and it urged people near the area to remain in place until further instructions from police.
The U.S. Consulate in Barcelona posted a warning on Twitter, saying it is "aware of a reported incident at Las Ramblas in Barcelona. Please avoid the area."
President Donald Trump is being updated on the situation in Spain by chief of staff John Kelly, according to a White House official.
This is a breaking news story. Please check back for updates.