Hot Rods Show Off At Waverly Car Show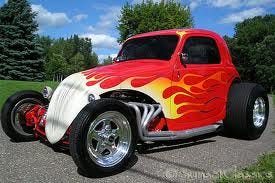 By: Cole Miller
Cmiller@klkntv.com
The parking lot at Waverly high school was full of new and classic cars today.
Their owners got a chance to show them off, all while helping support a program to help feed kids in the community.
It was a perfect day to put the top back and to give back. Now in its third year, the Waverly car show gives the owners of classic hot rods a chance to show off their wheels and help feed hungry children…"We're helping raise money for the backpack program, which we do all year. And that gives food to people who don't have it every weekend. We put the backpacks together and then go give them to people because I would want a meal every night. Some people don't have that opportunity or the money to get that," Paign Finken and Makenna Meier say.
Tnd the event just keeps getting bigger. With more fuzzy dice, chrome and kids activities. Car show organizer, Tom French says, "Last year we had 89 cars. As of right now, we're at I believe 145. It's the program that sells itself and the car guys are interested in helping support the program."
The backpacks also go to kids in Eagle, Alvo, Prairie Home and Walton. "No one should ever go without a meal, it's not fair…and it's a great program."
Next year's show will again fall on the first Sunday of June…