Hot temperatures hit Southeast Nebraska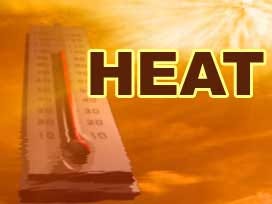 Quite the scorcher out there Monday. Just a few degrees shy of triple digits. If any of you were outside, you probably noticed that it sure was hot, just the kind of day for taking a jump in the pool.
How hot was it? Lincoln hit 99 degrees Monday. The hottest day since last August. School's out now…so naturally it's the perfect time to get out and enjoy the clear skies and perfect sunshine. But with it being so hot today…the water is a huge relief for people trying to beat the heat.
"This is our first time this year but last year we came a few times," Jack Thomas said.
It may be a good time for fun…but there's a few things you need to remember. As you know, too much sun can be dangerous. be sure to drink plenty of water and avoid too much alcohol. Wear light–colored clothing…and most important…wear plenty of sunscreen.
For more hot weather safety tips, just log onto http://www.aap.org/advocacy/releases/summertips.cfm