UPDATE: House fire near UNL East Campus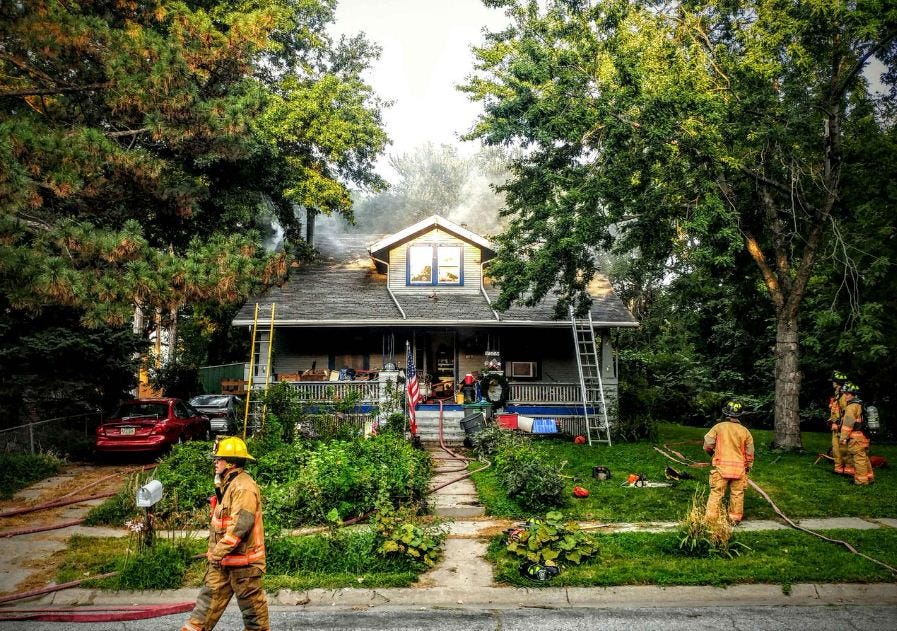 Posted By: Channel 8 Eyewitness News
8@klkntv.com
Fire Inspector Rick Campos says the house fire near 45th and Holdrege was caused by a grill that was too close to the home.
Campos says that damage estimates are around $80,000.
No one was injured and three cats were rescued from the home while crews were battling the blaze.
---
UPDATE:
A 2 alarm blaze ripped through a north Lincoln home tonight.
"Crews responding indicated they saw a column of smoke. I could see it from downtown when we rounded on to O street," says Battalion Chief Leo Benes of Lincoln Fire and Rescue.
Firefighters struggled to get the fire under control.
"It's a bit of hoarding going on, so that makes it difficult for the fire fight both for fire extension, the amount of material there is to burn, and being able to move around inside the structure to be actually able to do the fire fight," says Benes.
It happened close to UNL's East Campus near 45th and Holdrege Thursday evening. Within minutes of the initial call at 6:30 p.m., crews were on scene battling the flames. Officials say the fire climbed into the attic and the construction of the home made it difficult for firefighters to put it out.
One neighbor says he could hear the fire crackling a street away.
"We heard the noise first. We heard like fireworks. All of the sudden I could see the smoke and some sort of a flame," says Ken Aucoin, witness.
Everyone got out safely, including 2 cats that were rescued from the home. They'll be treated for smoke inhalation at the veterinarian, but should be okay.
No word what caused the fire. Crews say the damage is extensive, but don't have a dollar amount yet. They aren't sure if the home is salvageable, but the family will not be able to stay there tonight. Battalion Chief Benes said due to the nature of the construction of the home and the material inside they will have to dismantle the home to make sure the fire is out.
_______________________________________________________________________________________
Lincoln Fire and Rescue are currently fighting a house fire near UNL's East Campus on 45th street.
We've heard scanner reports say the fire was in the attic, but thankfully, everyone is out of the house safe. There are two pet cats that may still be in the house. Firefighters have also mentioned there is a hoarding situation in the home making the situation difficult.
We have a reporter at the scene now. We'll bring you more details as they become available.