LFR: South Lincoln home likely a total loss after fire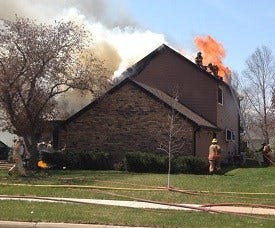 Posted By: Bill Schammert
Bschammert@klkntv.com
A south Lincoln home is being called a total loss after a Monday afternoon fire. The house, owned by Nancy and David Brown, went up in flames shortly before 1:00 p.m.
Nancy Brown was the only one home at the time. Off camera, she told us she heard a popping sound, and within seconds the fire was everywhere.
Concrete worker Curtis Embree was driving to lunch when he first saw the smoke and stopped.
"I ran up to the house and there was a woman inside," he said. "We got the woman to come out and she said she still had pets in there."
Brown says her family has lived at the home in the Rolling Hills neighborhood for more than 20 years. All she wanted was to get her two dogs out safely, but by time she got across the street it was too late.
"The home was completely engulfed," Embree said. "We weren't able to get the dogs out, but the woman's safe. That's all we could do."
Lincoln Fire and Rescue says the fire started in the backyard on the deck. A nearby propane tank and spray paint cans caused the blaze to accelerate faster than anyone expected.
Assistant Chief Pat Borer says crews saw heavy smoke rising out of the neighborhood from blocks away.
"When we arrived, there was a lot of fire," Borer said. "So much so that we never did make entry into the building. It just wasn't safe to do so."
Borer says some firefighters spent a few minutes on the roof trying to cut holes to release some of the gases, but eventually it got too dangerous.
"It was unsafe up there, so we just brought everyone down and fought it from the exterior," he said.
According the Lancaster County Assessor's website, the home is valued at about $267,000. Borer said he hadn't talked to the insurance adjuster yet, but that he considers the home to be a complete loss.
LFR says the investigation will pick-up again Tuesday morning, but at this point, they believe a cigarette is likely to blame.