Hundreds help with Beaver Crossing clean up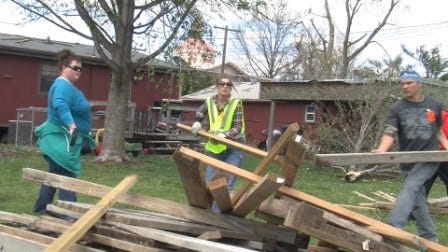 By: Lauren Fabrizi
lfabrizi@klkntv.com
Beaver Crossing may be a small town, but hundreds of people with big hearts came out Tuesday to help with the storm damage clean up.
One of those people was Rebecca Chamberlin. She said it was fate that brought her Naval Academy group to Beaver Crossing.
"Our van got stuck here!" Chamberlin said.
Chamberlin said they were on their way to Oklahoma to teach some elementary school classes as part of an internship, when the severe weather prevented them from getting any farther.
She said they couldn't imagine their time stuck in Beaver Crossing doing anything else but helping with the clean up.
"Just seeing the disaster really hit home for some people from out here," Chamberlin said.
With nearly every single home affected, Emergency Management set up a volunteer station in Utica Tuesday. From people out of state like Chamberlin to those who live nearby, officials estimated at least 700 people who signed up before heading out to the town.
Richard Welch's parents' home was hit. He and his nephew said they plan on being there into Tuesday night.
"Kind of sad, it's frustrating but you got to look at it like my mom said." Welch said. "They weren't home at the time. The house could have been a lot worse."
The Salvation Army and Red Cross were also on hand providing food and beverages.