Hundreds rally for tax credit scholarships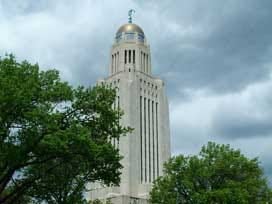 Parents, teachers, students and state lawmakers joined together on the steps of the Capitol to rally for a bill that would establish a new tax credit scholarship program.
"Parents ask for nothing more then the ability to choose how they educate their child and this is the powerful idea that you bring to these stone steps today," said State Senator Tony Fulton.
The program would allow eligible families access to scholarship funds in order to enroll their children in approved private schools in Nebraska. Non–profit organizations would get a tax credit for donating to the scholarship program.
"I'm going to need your help, because it's going to come up in January of next year and it'll be passed with your help and your prayers," said the bill's sponsor State Senator Bob Krist.
A recent survey determined over 80 percent of parents in Nebraska want to be able to choose where their children go to school. This program allows just that and is already in effect in several states including Iowa, Arizona, Florida, and Oklahoma.
So far, Lincoln Public Schools have taken a stance on the measure, and no one has publicly opposed it. At this point the bill is stuck in committee. The plan is to introduce it for a vote next year.