Hundreds remember motorcycle crash victim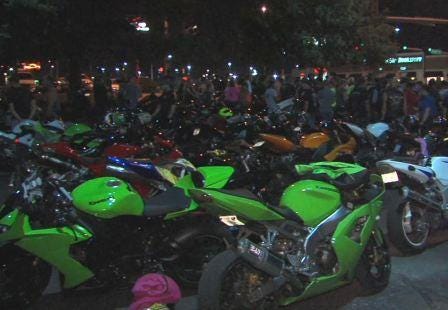 Posted by: Andrew Ward
award@klkntv.com
Hundreds of people gather together to remember the victim in Monday night's motorcycle crash on O Street.
Friends of 24–year–old Jaci Kehling held a candlelight vigil Tuesday night at the site of the accident.
Bikers from around the Lincoln area packed the corner of 52nd and O streets, where just a day earlier, Kehling crashed into the rear of a green Ford Taurus with her motorcycle.
She later died at a hospital.
Jaci's friends describe her as bubbly with loud opinions and an outgoing lifestyle.
"It still hasn't hit us yet that it happened," said friend Caleb Rader, "Because we don't want to believe that it happened."
Chris Dienes added "She was just a sweet little ball of sunshine."
Jaci's friends say she impacted many social groups throughout Lincoln.
She was helping plan Zombie Fest, worked for Anime Nebraska, and was an active member of the Eagle Hollow Haunts.
Her friends say she rode her motorcycle anywhere with anyone.
"She knew everybody. She rode with anybody. It didn't matter who or what you were. She rode with you," Rader added. He says that's why so many bikers were at the candlelight vigil Tuesday night.
He says the biker community isn't large, but when tragedy strikes they rally together.
Friends say they now take comfort knowing Jaci did more in 24 years than most do in a 90–year lifetime.
"We lose her and we'll forever miss her, but she had no regrets," friend Rebecca Rose, "She lived her life on her terms and we loved her for that."
With this being the second fatal motorcycle accident within the last month, the biker community asks for drivers to be even more careful on the roads to prevent further tragedy.