Husker baseball team visits St. E's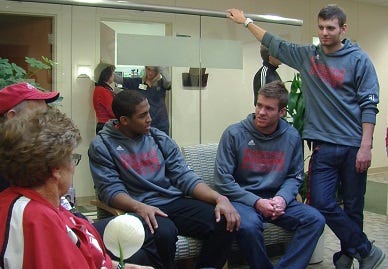 Posted By: Camila Orti
corti@klkntv.com
It was an exciting day for Nebraska fans at St. Elizabeth's as the Husker baseball team stopped by to visit.
Barb Weaver was recovering from her hip surgery when several players surprised her.
"I'm just real thrilled to meet them all and I appreciate them coming and spending their time here," Weaver said.
Nearly 40 players, just about the entire team, spent part of their afternoon visiting with patients at St. E's as part of the team's community outreach program.
"This is the second time I've done it and I've gotten more out of it than anything," Senior Christian DeLeon said.
DeLeon, a pitcher, says it feels good to meet new fans and lift spirits. His teammates agree.
"To talk with them and have a chance to brighten their day was something that was really fun," Junior Catcher Tanner Lubach said.
From the youngest and smallest Husker fans in the Neonatal Intensive Care Unit to older patients awaiting radiation, the players and their coaches stopped by to give out wristbands, sign autographs, or simply say hello.
"Just seeing the smiles and seeing our players' reactions and their smiles, you can just tell it means something to everyone and it's a very powerful thing," Head Coach Darin Erstad said.
Erstad says the team goes on about two of these outreach trips each year.