Husker fans kick off season opener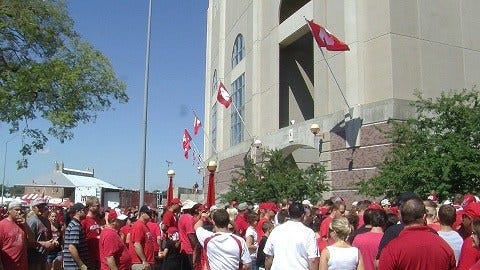 By: Megan Conway
There's a buzz in the air as football season kicks off today in the capitol city. The heat did not affect the enthusiasm of fans today. Huskers fans started the football season off right today with tailgating, cheering and of course, a sea of red.
"Here we go Husker nation we've been waiting for this all year! Gooooo biggggg reddddd, go big red," says Britain Doolittle with her group of friends joining in on the cheer.
You could smell the excitement in the air as fans flooded downtown Lincoln with a sea of red. With brats on the grill and cold drinks in hand, everyone was decked out from head to toe in their best Husker gear. For Kamron Lasher, his 7th birthday will definitely be one to remember.
"It's your first game isn't it? I'm so excited," says Kamron Lasher and his father.
Some fans were looking forward to seeing how certain players performed.
"I want to see how Armstrong does; I want to see what he does and especially the defense, see if they got better," says Denny Lasher.
Others traveled from hundreds of miles away to cheer on the scarlet and cream. One fan came from Ft. Leonard Wood base in Missouri.
"I got sideline seats, man it's going to be great," says Mitchell Nennich.
Fans tailgated in style, one was complete with a second level and an umbrella to shade the sun. No ticket, no problem! Others had televisions to watch the big game. Fans next chance to tailgate will be next week when the Huskers take on McNeese State.
A new thing this year, the season kicked off with red and white fireworks at Memorial Stadium before the game.