Husker fans raise money for Easter Seals at spring game tailgate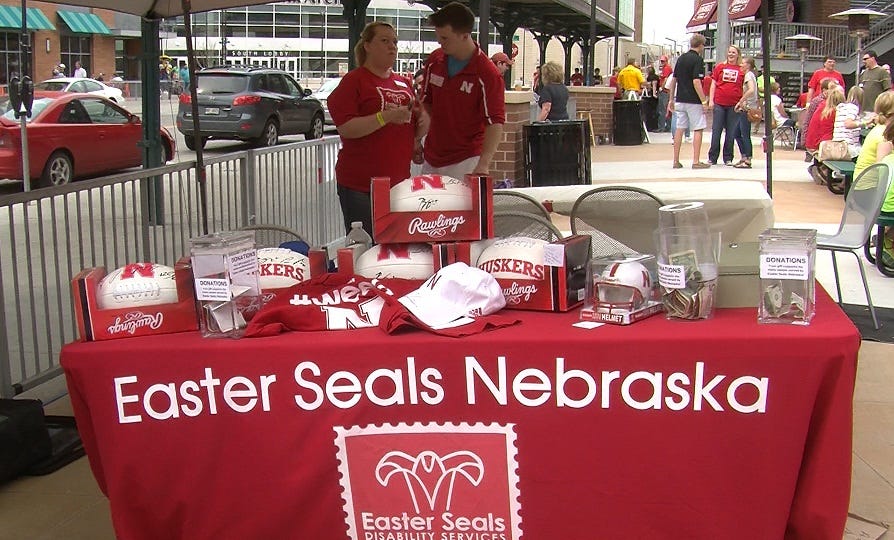 By: Lauren Fabrizi
lfabrizi@klkntv.com
This year's spring game wasn't just about sizing up the team for former Husker C.J. Zimmerer and dozens of fans in the Railyard.
"A disability doesn't make a person who they are; it's just the same as having blonde hair, black hair or blue eyes," Zimmerer said.
It was also about raising awareness for children in Nebraska with disabilities.
A portion of the money raised from beer sales and autographed Husker memorabilia will help fund Easter Seals Nebraska's annual summer camp.
"I love supporting a good cause, the Easter Seals," Husker fan Allison Wells said. "I just love to hear about what they're doing for people with disabilities."
"To know that people care about people in their community is really important," Lily Sughroue of Easter Seals said. "That they're supporting organizations like Easter Seals is important."
Fans, of course, were loud and proud, catching a glimpse at this year's Husker squad. And most people seemed to like this year's changed spring game format.
"The way they did defense versus offense, very unique," Trevor Pillen said. "Made me very excited for this coming season."
Friends shared food, drinks and plenty of laughs as they talked about this year's roster. Everyone already has his or her thoughts on how the season will play out.
"I think this is the year they will really come together, and hope we get that solid bowl win that we need," Matt Gibney said.
"We're going to win the Big Ten championship, no doubt!" Jim Greco added.
"It's going to be a good year, it's going to be a good year," Patrick Kaibust said.
Easter Seals Nebraska raised more than $10,000 Saturday for its summer camp. If you would like to donate, click here.