Husker Softball Defeats Northern Illinois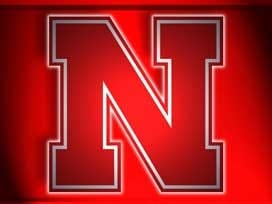 Courtesy: Nebraska Athletics
Lawrence, Kan. – Emily Lockman won her sixth straight start and Taylor Edwards homered for the fourth time in six games, as the 14th-ranked Nebraska softball team defeated Northern Illinois, 10-2 in six innings on Saturday at Arrocha Ballpark.
Lockman (10-3) earned her 10th victory of the season, as she has won six straight decisions since back-to-back losses to top-10 opponents Arizona and UCLA in the third weekend of the season. Against NIU, Lockman fired a seven-hitter and allowed only two runs.
With Lockman in control in the circle, Taylor Edwards continued her torrid start to her senior season. Edwards finished 1-for-3 with a walk and a three-run homer, hitting a home run for the second straight game, the third time in four games and the fourth time in six games. Edwards leads NU with seven home runs this spring.
While Edwards drove in three out of the No. 2 spot in the Husker lineup, sophomore Hailey Decker added two RBIs batting third. Decker finished 3-for-4 with two doubles, picking up her second straight multi-hit and multi-RBI game. Sophomore Alicia Armstrong added three hits of her own to record her second straight multi-hit game. Armstrong tied her career high with three hits and three RBIs. Sophomore Dawna Tyson was 1-for-1 with a double, a walk and a hit-by-pitch in her return to the lineup. Freshman MJ Knighten added her third multi-RBI performance of the year, driving in two runs.
Nebraska jumped out to a 2-0 lead in the bottom of the first inning. Senior Tatum Edwards began the inning with a four-pitch walk before stealing second with one out. She then scored on an RBI single from Decker. A walk to freshman Austen Urness and a fielder's choice put Huskers on first and second with two outs, before Armstrong delivered an RBI single to right center.
In the top of the second, Lockman led off with a single before Tyson drilled a double to center field on the next pitch to put runners on second and third. Then with one out, Taylor Edwards launched a three-run homer well over the left field fence to give Nebraska a 5-0 advantage.
Northern Illinois threatened for the first time in the top of the fourth. A leadoff single and an error put Huskies at first and second with none out, giving NIU its first runner in scoring position in the game. A ground out moved the runners to second and third before Nebraska recorded an out at home on a squeeze bunt attempt. Lockman then picked up her first strikeout to escape the jam.
In the bottom of the fifth, Tyson was hit by a pitch to begin the inning. She was replaced by freshman pinch runner Lotte Sjulin, who scored on a two-out RBI double from Decker.
Northern Illinois got the run back in the top of the fifth with a two-out RBI double of its own.
Leading 6-1, Knighten and Armstrong began the bottom of the fifth with back-to-back singles. But Nebraska was unable to plate a run, as sophomore Kiki Stokes was ruled out of the box on a sacrifice bunt attempt before Knighten was thrown out at third attempting to steal. Consecutive walks to Lockman and Tyson then loaded the bases before a ground out ended the inning.
Three of the first four Huskies then singled to begin the top of the sixth to load the bases with only one out. A walk then forced in a run before back-to-back ground outs kept the score 6-2.
The Huskers then closed out the run-rule victory with four runs in the bottom of the sixth. Taylor Edwards walked to begin the inning before Decker doubled and Urness was hit by a pitch to load the bases. Knighten then lined the first pitch she saw off the wall down the left field line for a two-run double to stretch the lead to 8-2. With runners on second and third and one out, Armstrong produced her third hit, a two-run single up the middle that closed out the scoring.
Jessica Sturm (6-4) took the loss for Northern Illinois (9-11). Sturm allowed five runs on five hits in 1.1 innings, while Rebecca Rupard surrendered five runs on six hits in 3.2 innings and Allyson Hecht allowed the game-ending, two-run single to Armstrong, the only batter she faced.
Nebraska (17-8) wraps up its stay in Lawrence with a second Saturday game against the host Kansas Jayhawks. Sunday's scheduled game with Jackson State was canceled due to the threat of inclement weather.