UNL Huskers hold race in support of cancer research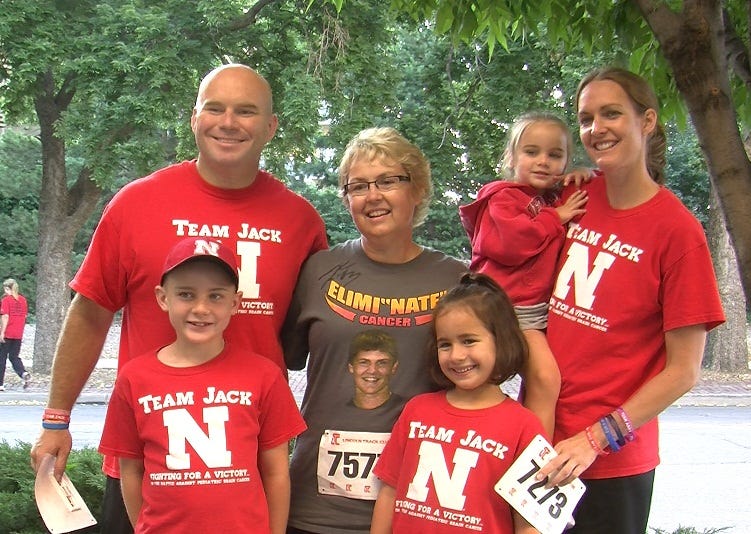 By: Lauren Fabrizi
lfabrizi@klkntv.com
The UNL football team hosted its first "Uplifting Athletes" Road Race Sunday morning to raise awareness for pediatric brain cancer.
Jack Hoffman, 7, has been battling pediatric brain cancer since 2011. He was present along with his team, "Team Jack."
"These events where you can meet a lot of supporters, hang out with the football team and really, you know, I think make a huge impact on the disease," Jack's father, Andy Hoffman said.
The football team was there in full force to support the cause, cheering on Jack and about 700 other runners.
"It's awesome to be able to help kids like Jack and all other kids like him who are going through a tough time with pediatric brain cancer," football player CJ Zimmerer said.
Jack has developed a tremendous following throughout his journey with cancer. Last April, he got his wish to play with the Huskers. He even won an ESPY for Best Sports Moment after running 69 yards to score a touchdown during the spring Red/White game.
"A lot of people want me to sign autographs," Jack said.
Jack's father is with him every step of the way. His hope is to get more national funding for pediatric brain cancer research, but he said you cannot put a dollar amount on event like Sunday's race.
"Today was a huge success even before people got up," Hoffman said. "Because just the fact that we're having the event, the awareness is being made and the money really just is a bonus."
Jack finished chemotherapy last month. In October, he will have an MRI to determine the next step.