Husker Volleyball sweeps Maryland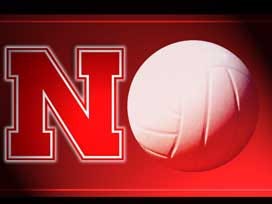 Posted By: Sports
Sports@klkntv.com
Courtesy: NU Media Relations
COLLEGE PARK, Md. – The fifth-ranked Nebraska volleyball team capped a successful weekend road trip with a 3-0 (25-23, 25-18, 25-13) sweep at Maryland in front of a crowd of 1,667 at XFINITY Center Pavilion on Saturday night.
The Huskers (24-4, 17-1 Big Ten) put away the Terrapins for their 11th-straight win and now enter the final week of the regular season with a chance to clinch at least a share of the Big Ten Conference title with two wins next week. Nebraska, which has a chance to repeat as Big Ten champions for the first time since joining the conference in 2011, visits Northwestern on Wednesday and hosts Iowa next Saturday in the regular-season finale.
Nebraska used a balanced attack with five players posting at least four kills. Mikaela Foecke had eight kills and seven digs, and Annika Albrecht had eight kills and six digs. They hit .438 and .375, respectively. Briana Holman had six kills and four blocks, Jazz Sweet had five kills, and Lauren Stivrins had four kills and four blocks.
Thanks to nine blocks on the night, the Huskers were able to hold Maryland to .115 hitting for the match despite allowing the Terrapins to hit .367 in a two-point first set. In sets two and three, Maryland hit -.018 combined. NU had eight of its nine blocks in the last two sets.
Kelly Hunter set the Huskers to a .310 hitting percentage with 27 assists, six digs and three blocks. Sydney Townsend and Kenzie Maloney each had five digs.
The Huskers won out-served Maryland with five aces to just two for the Terrapins. Foecke and Albrecht each had two aces. Maryland committed 12 service errors, while Nebraska had eight.
Erika Pritchard had 10 kills for Maryland (17-13, 6-12 Big Ten). The Huskers held Maryland's leader in kills this season, Gia Milana, to three kills on -.067 hitting.
Set 1: Foecke sparked the Huskers with back-to-back aces as they went ahead 5-1. Maryland cut it to 6-4 before a 3-0 Husker spurt made it 9-4. Maryland continued to claw back and an ace serve by the Terps tied the score at 13-13. A kill by Milana and a Husker hitting error put the Terps in the lead for the first time at 15-14. But Nebraska responded with kills by Albrecht, Stivrins and Foecke to go ahead 17-15 and force a Maryland timeout. Holman smashed a pair of kills and teamed up with Sweet for a block to increase the lead to three, 21-18. Sweet found the floor twice for set point at 24-20. After Maryland fought off three set points, Albrecht ended the set in NU's favor, 25-23.
Set 2: The Huskers took a 3-1 lead and although Maryland kept it close throughout most of the set, the Huskers led throughout the entire frame. Foecke and Albrecht came up with kills to help give NU a 15-11 lead. The Huskers gained a 20-14 lead after a block by Albrecht and Stivrins, and NU closed out the set 25-18. After allowing Maryland to hit .367 in set one, the Huskers held the Terrapins to .036 in set two.
Set 3: Maryland took a 5-4 lead, but Foecke took over with a pair of blasts from the left side, and Albrecht served an ace during a 9-0 run that put NU ahead 13-5. Stivrins and Hunter combined for two blocks during the run, and Stivrins also notched a kill. Later, Holman pounded a kill and stuffed a Terrapin attack, Albrecht added a kill, and Holman and Sweet added another block for a 20-9 Husker advantage. The Huskers finished off the sweep with the 25-13 win, holding the Terrapins to -.069 hitting in the set. NU hit .429 in the final frame.
Up Next: The Huskers visit Northwestern for the final road match of the regular season on Wednesday at 7 p.m. in Evanston, Illinois.