Husker Volleyball Wins Two in Ohio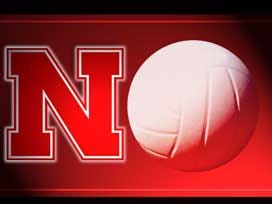 Posted By: Sports
Huskers Get Past Bakersfield
Dayton, Ohio – The No. 12 Nebraska volleyball team beat Bakersfield 3-1 (25-16, 25-8, 22-25, 25-19) in the first of two matches on Saturday at the Flyer-Raider Invitational at the Frericks Center.
Kelsey Fien followed up her 12-kill performance on Friday with a career-high 17 kills against Bakersfield. Kadie Rolfzen had a double-double with 15 kills and 15 digs. Melanie Keil set a career high with eight kills on 12 attacks for a career-best .667 hitting percentage. Meghan Haggerty came up big at the net for the Huskers with six kills and nine blocks. Mary Pollmiller finished with 46 assists, and Justine Wong-Orantes had 15 digs to match her season best.
The Huskers improved to 2-2 overall and 2-0 at the tournament. Bakersfield fell to 2-4 overall. Molly O'Hagan led the Roadrunners with 11 kills.
NU totaled a season-high 14 blocks to just four for Bakersfield. The Huskers had a 60-51 advantage in digs but committed seven service errors to CSUB's four.
Similar to Friday, the Huskers got off to a slow start. Bakersfield went up 7-5 early in the first set courtesy of four early errors by NU. But the Huskers settled in and went up 10-9 on a swing by Fien. That started a run where the Huskers took eight of nine rallies, keyed by two Kadie Rolfzen kills. Bakersfield got no closer than five the rest of the set, as the Huskers pulled away to the 25-16 win.
In set two, NU bolted out to a 4-1 lead and never looked back. The Huskers strung together 10 straight points to go up 17-4 with Kadie Rolfzen serving up three consecutive aces to break the backs of the Roadrunners. Redshirt freshman Kira Larson recorded her first career kill to end the set at 25-8. The Huskers' margin of victory equaled their largest set victory since a 25-4 third-set win over Louisiana-Monroe in the season opener last season.
But Bakersfield came back in set three and took leads of 9-5 and 15-11. NU rallied to tie it at 15-15 with two kills coming from Kadie Rolfzen. The Huskers then took an 18-16 lead, but Bakersfield fought back with a 5-0 run to go up 21-18. The Huskers didn't help themselves with a service error and two attacking errors during the run. NU got it back to within 21-20 on back-to-back kills by Fien and Kadie Rolfzen, but Bakersfield answered with three points to push the lead to 24-20. Back-to-back Husker points were too little too late, though, as CSUB finished a 25-22 win on a kill by Sydney Haynes.
CSUB carried its momentum into the fourth set, taking an 11-7 lead to force a Husker timeout. The Roadrunners maintained the four-point lead at 14-10, but the Huskers put together a 5-0 run to go up 15-14, aided by two Kadie Rolfzen kills and two double-stuff blocks from Haggerty combined with Amber Rolfzen and Kadie Rolfzen. With the set tied at 18-18, the Huskers finally gained some separation with a double-stuff block by Cecilia Hall and Pollmiller and a kill by Hall to the vacant back row for a 20-18 lead. The Roadrunners made it 20-19 following a timeout, but Fien blasted to the floor for a 21-19 Husker lead. Hall and Fien finished off the match with back-to-back kills.
The Huskers finish the tournament against Eastern Kentucky at 2 p.m. (CT).
Huskers Sweep Colonels for Unbeaten Weekend
Dayton, Ohio
– The 12th-ranked Nebraska volleyball team finished an unbeaten weekend at the Flyer-Raider Invitational with a 3-0 sweep (25-12, 25-23, 25-7) over Eastern Kentucky on Saturday afternoon at the Frericks Center.
The Big Red went 3-0 at the tournament to improve to 3-2 on the season. In their final match, the Huskers swept aside a 6-1 Eastern Kentucky team that had won five matches in a row and was also unbeaten at the tournament with sweeps of Wright State and IPFW.
Kelsey Fien led the Huskers with 14 kills, while Kadie Rolfzen had 11 kills and hit a career-best .667. Mary Pollmiller had four kills, 29 assists, seven digs and three blocks, while Amber Rolfzen tallied five kills and five digs. Annika Albrecht served up three aces in a row in the third set to blow it open. Melanie Keil had three kills and five blocks.
The Huskers hit .398 as a team, while Eastern Kentucky hit just .053. The Huskers outblocked the Colonels 8-2 and outdug them 42-29. NU's 38 assists also bested EKU's 22. Justine Wong-Orantes added seven assists for the Big Red.
Nebraska cruised in set one to a 25-12 victory. The Huskers broke a 5-5 tie with a 20-7 outburst to wrap up the set. Kadie Rolfzen had five kills on six attacks in the opening frame, and Fien had four as the duo combined for nine of NU's 11 kills in the set. Pollmiller sparked NU with three blocks and eight assists. The Huskers hit .385 as a team and held EKU to a .000 hitting percentage.
The second set was much more competitive, although it didn't look like it would be at the beginning. NU jumped in front 5-0 with a kill and ace from Pollmiller. After the Huskers took a 9-2 lead, Eastern Kentucky inched back into the set with four straight points when it was 15-10 to pull within 15-14. But Amber Rolfzen gave the Huskers a two-point cushion with a kill, and back-to-back EKU errors gave NU an 18-15 advantage. Later in the set, Fien notched back-to-back kills for a 23-18 Husker lead. But the Huskers weren't out of danger just yet, as the Colonels scored consecutive points to cut it to 23-20 and force a Husker timeout. Keil connected down the right side out of the timeout to force set point, but the Huskers made it interesting with two mental errors that cut their lead to one at 24-23. However, Fien and Keil thwarted an EKU attack at the middle of the net to finish the set at 25-23.
A flurry of three aces by Albrecht and three straight kills by Kadie Rolfzen boosted the Huskers to a 13-1 start to set three, and they never let up from there. NU rolled to a 25-7 win in the set, its largest margin of victory this season. The Huskers held two opponents to single-digit points in 25-point sets twice on Saturday after doing so three times all of last year.
The Huskers are back in action at the Devaney Center next Friday when they host the Ameritas Players Challenge. NU will face Denver on Friday at 7 p.m. and Colgate on Saturday at 7 p.m. The tournament begins with Akron vs. Colgate on Friday at 4:30 p.m. Other matches on Saturday are Colgate vs. Denver at 11 a.m. and Akron vs. Denver at 4:30 p.m.