Huskers Battle Alumni in Devaney Center Debut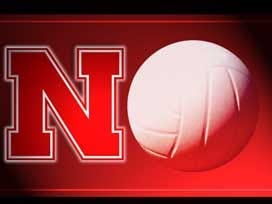 Courtesy: Nebraska Athletics
Lincoln, Neb. – The 10th-ranked Nebraska volleyball team held its annual Red/White Match on Saturday evening at the Bob Devaney Sports Center in front of a sellout crowd of 8,243 fans. The Nebraska alumni team, led by Olympians Jordan Larson and Nancy Metcalf, took the match 2-1 (25-19, 17-25, 25-22) on the historic night at the Devaney.
Kelsey Fien and Morgan Broekhuis led the Huskers on the night with 12 kills each. Broekhuis tallied a .357 hitting percentage, while Fien notched a clip of .280. Husker setters Kelly Hunter and Mary Pollmiller both saw playing time during the match, with Pollmiller notching 24 assists and Hunter with seven assists. Justine Wong-Orantes had 12 digs.
The Huskers started the match fighting point-for-point with the alumni. A kill by Broekhuis gave NU the lead at 5-4, but the alumni would come back to take a 15-9 lead after a kill by Metcalf and a hitting error by the Huskers. A kill by Fien would cut the alumni lead to 17-13, but it would not be enough as they would go on to take the first set 25-19.
Fien led the Huskers in the first set with five kills, while Pollmiller tallied five assists and Hunter had four assists. The Huskers also notched 11 team digs and two team blocks.
NU came out to a 5-3 lead in the second set on a kill by Amber Rolfzen. Nebraska went on a 5-0 run, highlighted by a kill by Broekhuis to extend its lead to 14-8. The Huskers then strung together another 5-0 run to make it 21-12. NU would go on to win the second set 25-17 and even the match at one set apiece.
Meghan Haggerty and Broekhuis each had four kills in the second set, while Fien notched three. Pollmiller paced the offense with 11 assists. The Huskers recorded a .344 team hitting percentage of the set.
Nebraska opened the third set down 6-2 on a hitting error, but came back to cut it as close as 12-10 on a kill by Fien. The Huskers then cut it 17-16 on a kill by Ostrander, but the alumni pulled ahead 23-18 and went on to take the third set 25-22.
Haggerty and Broekhuis both had four kills in the third set, while Pollmiller tallied 11 assists. Nebraska posted 15 team digs and three team blocks in the set.
The Huskers open the 2013 season on Friday, Aug. 31 at the Billiken Invitational hosted by the University of Saint Louis. Nebraska will face Louisiana-Monroe on Friday at 4:30 p.m. and will take on Auburn on Saturday at 10 a.m., before a match-up with Saint Louis at 7 p.m.