Huskers Conclude Busy Saturday of Action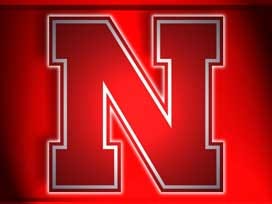 The Nebraska men's tennis team's run came to an end at the USTA/ITA National Indoor Championships in Flushing, N.Y., as their doubles team was eliminated in the finals of the consolation championship.
NU's team of Christopher Aumueller and Benedikt Lindhiem were victorious in their semifinals match over Columbia's duo of Nathaniel Gery and Winston Lin, 8-2. In the finals, Maryland's squad of John Collins and Maros Horny were victorious, 9-7, over NU's duo. The loss ended Nebraska's run at the Indoor Championships.
"Aumueller and Lindheim lost in the finals of the consolation today, and even though it was a tough loss they have gained valuable experience," Nebraska head coach Kerry McDermott said. "Hopefully it will benefit our team in the spring.
"We coaches are proud of their effort overall throughout the tournament and hope that their experience at National Indoors will help them finish strong in the second semester as we start team competition."
The Huskers also had a handful of players competing in Minneapolis, Minn., as the third day of the Gopher Invite continued with singles and doubles play.
In round three of Group A's single play, NU's Andre Stenger was victorious over Denver's Jens Vorkfeld, 6-3, 6-4. In Group B, the Huskers had two players competing. In the first match, DU's Yannick Weihs was victorious over NU's Robert Schultze, 6-4, 7-6. In the second Group B match, NU's Tom Blackwell defeated DU's Alex Clinkenbeard, 3-6, 6-0, 6-1.
In Group C play, Denver's Othar Kordsachia was victorious over NU's Eric Sock, 4-6, 6-4, 6-4. In the second match, DU's Luke Manley defeated Nebraska's Drew Freeman, 6-4, 6-2.
The Huskers also had two teams competing in round two of doubles play on Saturday.
In Group A, NU's Stenger and Schulze were victorious over Notre Dame's duo of Casey Watt and Niall Fitzgerald, 9-8 (7). In Group B play, Notre Dame's squad of Samuel Keeton and Billy Pecor defeated NU's duo of Blackwell/Freeman, 8-5.
"Stenger and Schulze played a very good match to beat Notre Dame at the No. 1 spot today. Tom Blackwell came back strong today in singles and battled back to win a three setter," McDermott said. "It was good to see Tom come back and win after losing the first set which shows his fighting spirit and determination. This is the type of attitude that we want the team to have every time they step on the court."