Huskers Defeat No. 10 Minnesota 3-1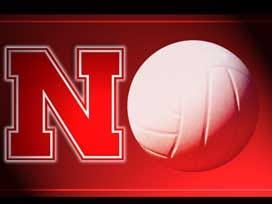 Posted by: Sports
The No. 3 Nebraska volleyball team (15-2, 7-1) posted a 3-1 (18-25, 27-25, 25-23, 25-16) win over the No. 10 Minnesota Gophers in front of 4,163 fans at the NU Coliseum on Sunday afternoon.
Gina Mancuso led the Husker offense on the day with 14 kills and a .343 hitting percentage, along with two aces and nine digs. She has at least 10 kills in all of the Huskers' matches against ranked teams this year. Hannah Werth had 11 kills, nine digs and five blocks, while Hayley Thramer notched 10 kills, a .421 hitting percentage and seven blocks. Lauren Cook recorded a career-high eight kills, while also recording 44 assists, 11 digs and two blocks for NU. Lara Dykstra notched a team-high 13 digs.
Nebraska hit .326 in the match, while the Gophers notched a .284 hitting percentage. Nebraska out-blocked Minnesota 11-7.5, but was out-dug 57-49.
The Huskers and Gophers were knotted up with the first set at 3-3 on a service ace from Mancuso. Minnesota bolted ahead to a 15-9 lead, before the Huskers posted a 3-0 run to make it 16-12, Gophers, on a kill by Werth. The Huskers would only get as close as 21-16, as Minnesota would go on to take the first set 25-18.
Werth had four kills for the Huskers in the first set, while Mancuso and Morgan Broekhuis both recorded three. Cook tabbed 11 assists, while NU notched a .343 hitting percentage. Minnesota posted a .552 hitting percentage in the set.
Nebraska opened the second set with a 4-1 lead on a solo block by Thramer. Mancuso notched back-to-back kills to make it 9-7, Huskers, before the Gophers tied it at 9-9. A kill by Broekhuis put NU up 12-9, while a block from Meghan Haggerty gave Nebraska an 18-13 lead and forced Minnesota to call a timeout. A solo block by Thramer made it 22-17, Huskers, but the Gophers came back to cut the Nebraska lead to 22-20. Three set points later, the Huskers came out on top, taking the second set 27-25 and tying the match at one set apiece.
Minnesota never led in the second set, while Mancuso guided the Huskers with five kills on eight attacks. Thramer recorded three kills, while the Huskers hit .179 in the set. Minnesota tallied a .227 hitting percentage, but NU out-blocked the Gophers 6-2.
An ace by Cook made it 2-0, Huskers in the third set, as a kill by Haggerty put NU up 8-6, while the Huskers stretched their lead to 10-6 and Minnesota called a timeout. Nebraska posted its largest lead of the match at that point with a 16-10 advantage, but the Gophers came fighting back, using a 7-0 run to tie the set at 21-21. The Huskers battled back to win the third set 25-23 on a kill by Broekhuis.
Cook had four kills and 12 assists in the set, while Thramer had four kills. The Huskers hit .361 in the set, while the Gophers hit .225.
The Huskers took a 4-3 lead in the fourth set on a kill by Thramer, while an ace by Mancuso opened up the set at 16-10, Nebraska. An error by Minnesota made it 21-13; as the Huskers went on to take the fourth set 25-16, sealing the 3-1 match victory.
Mancuso and Werth both had four kills in the fourth set, as Cook tabbed 12 assists. The Huskers hit .480 as a team, while Minnesota hit .179.
Nebraska will hit the road this week for a mid-week match at Iowa on Wednesday, Oct. 17 at 7 p.m.