Huskers drop Hoosiers in 4 sets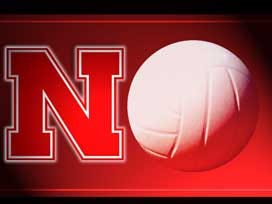 Posted By: Sports
The No. 9 Nebraska volleyball team (19-5, 11-4) took down the Indiana Hoosiers 3-1 (25-11, 18-25, 25-13, 25-22) Friday night in front of 4,109 fans at the NU Coliseum.
Morgan Broekhuis led the Huskers on the night with 10 kills on 21 attacks with a .429 hitting percentage. Gina Mancuso and Hannah Werth both recorded nine kills, while Lara Dykstra led the team defensively with 16 digs and Lauren Cook tabbed 36 assists. Meghan Haggerty led the Husker block with eight block assists, while Hayley Thramer had two solo blocks and five block assists.
The Huskers notched a .236 hitting percentage on the night, while Indiana hit .072. Nebraska out-blocked IU 17-8 and out-dug the Hoosiers 58-52.
The Huskers took an 8-3 lead in the first set on a double stuff block by Werth and Haggerty. Nebraska kept the momentum as a block by Mancuso and Thramer pushed NU to a 12-6 lead, while an error by the Hoosiers made it 16-8, NU. A solo block by Werth made it 21-9 as Nebraska went on to close on IU 25-11 in the first set.
Haggerty had three kills for NU in set one, while Mancuso, Broekhuis and Werth all had two. Nebraska out-blocked Indiana 8-1, while posting a .350 hitting percentage.
Indiana took a 4-1 lead early in the second set, while the Huskers cut the Hoosiers lead to 11-8 on a kill by Haggerty. Two long rallies resulted in kills for IU as the Huskers trailed 15-9 and called a timeout. A kill by Werth made it 16-11, Indiana, while Mancuso cut the Hoosier lead to 22-16. The Huskers would not be able to muster enough of a comeback though as Indiana took the second set 25-18.
Thramer and Werth both notched three kills in the second set, while Cook tabbed 10 assists. Nebraska was out-blocked 3-2 and posted a .135 hitting percentage.
A service ace by Dykstra gave Nebraska a 6-2 lead in the third set, while back-to-back kills from Mancuso put Nebraska up 13-6. A kill from Haggerty made it 19-11, NU, as Nebraska surged on and used a double-stuff block by Haggerty and Mancuso to take the third set 25-13.
Mancuso had four kills in the third set, while Broekhuis had three. Nebraska notched a .258 hitting percentage, while Indiana was held to a -.065 hitting percentage and just three team blocks.
Broekhuis helped the Huskers to a 5-2 lead on a solo block. Indiana came back to tie the set at 8-8, but NU went ahead 10-9 on a kill by Cook. Broekhuis put NU within one at 16-15, Indiana, while a kill by Werth tied the set at 20-20. A kill by Broekhuis and attack error by the Hoosiers sealed the 25-22 fourth-set win and gave Nebraska the match 3-1.
Cook, Broekhuis and Werth had three kills in the fourth set, while Cook also tabbed 10 assists. Nebraska notched a .257 hitting percentage for the set and out-blocked Indiana 3-1.
Nebraska returns to action tomorrow night as the Purdue Boilermakers come to the Coliseum for a 7:30 p.m. match that will be available on BTN.com with a subscription.