Huskers fight past Lobos to sweep Lobo Classic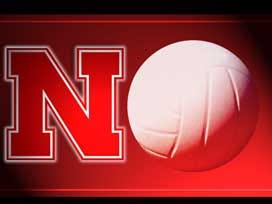 Posted By: Sports
Sports@klkntv.com
Courtesy: NU Media Relations
ALBUQUERQUE, N.M. – The No. 1 Nebraska volleyball team battled past New Mexico for a 25-22, 25-20, 25-14 sweep on Saturday in the final match of the Lobo Classic. It was the Huskers' first true road match of the season and came in front of 4,473 fans at The Pit.
Andie Malloy led the Huskers (6-0) for the second straight match with 14 kills on .385 hitting and was selected to the all-tournament team. Kadie Rolfzen added nine kills and a match-high 16 digs and was named the most valuable player of the tournament. She moved to 11th on Nebraska's career kills list, now with 1,256. Kelly Hunter was also on the all-tournament team with 39 assists, seven digs, four kills and four blocks.
Amber Rolfzen tallied eight kills with no errors for .667 hitting on the night and also had three blocks. Mikaela Foecke had eight kills, and Briana Holman had five to go with her match-high six blocks.
Cassie House had 12 kills to lead the Lobos (6-3), who finished second in the tournament with a 2-1 record.
The Huskers outhit the Lobos .311 to .110 and had a 9-5 edge in blocks. Five of the nine blocks came in the final set as the Huskers finished the match on a strong note. Nebraska served five aces and fell victim to just one from the Lobos. NU had a 43-38 lead in digs.
Set 1: The Huskers went up 6-4 on an Amber Rolfzen kill. Holman won a joust at the net to make it 8-5, and back-to-back kills by Holman and Kadie Rolfzen forced a UNM timeout at 11-8. Holman continued her strong start with two more kills to put NU up 13-9, and Malloy connected for one to make it 14-9. Another Malloy kill and a Kadie Rolfzen ace pushed the lead to 17-10. An ace by Sydney Townsend gave the Huskers a 20-13 advantage, but New Mexico pulled within 21-18 after a 5-1 run. Kadie Rolfzen pounded a kill and then combined with Holman for a block to make it 23-18. Kadie Rolfzen gave the Huskers set point at 24-20 with her fourth kill, and NU ended it 25-22 on a tip kill by Malloy. The Huskers hit .371 in the first set, while New Mexico hit .312.
Set 2: Foecke put up a kill and an ace early to help give the Huskers a 5-2 lead. The Lobos won a long rally to even the set at 9-9, but a tip kill by Kadie Rolfzen and kill by Amber Rolfzen off an overpass regained a 13-11 lead for the Big Red. The Lobos answered with the next three points to go up 14-13 before Kadie Rolfzen squared things up with her sixth kill. Hunter then dumped a kill to put the Huskers up 15-14 at a media timeout. But New Mexico came right back to go up 16-15. Hunter and Amber Rolfzen combined for a block for a 17-16 NU lead. The tip continued to work in NU's favor as Foecke put one down to make it 18-17. An ace by Hunter extended the lead to 20-18. Foecke added a kill, and a block by Holman and Malloy made it 22-19. Malloy sent her eighth kill to the floor for set point at 24-20, and NU won its first set point after UNM hit long. Both teams cooled off in the second set, as NU hit .146 and New Mexico hit .029.
Set 3: Malloy posted an early kill and Hunter and Amber Rolfzen combined for back-to-back blocks as the Huskers built a 7-3 lead. NU continued to showcase its block when Holman and Kadie Rolfzen teamed up for one to make it 12-6. Malloy tacked on her 11th kill and Justine Wong-Orantes served an ace for a 17-8 lead. Nebraska pulled away and finished off the sweep with a resounding 25-14 win. In the final set, the Huskers tallied five of their nine blocks and hit .565.
Up Next: The Huskers return home for the Ameritas Players Challenge next week. Nebraska will play two matches on Friday – against Montana State at Noon and Gonzaga at 8 p.m. The Huskers will finish non-conference action against Creighton next Saturday at 8 p.m.