Huskers Finish 12th at First Big Ten Championship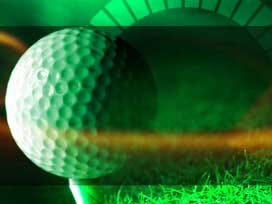 The Nebraska men's golf team finished 12th in its first appearance in the Big Ten Championship after shooting 317 in Sunday's final round at the Pete Dye Course at French Lick.
The Huskers finished the 72-hole tournament at 1,251 strokes. NU opened up the tournament on Friday with a 308 before posting 313 in the afternoon round. The Huskers matched that round of 313 on Saturday before Sunday's 317.
Jordan Reinertson led the Huskers, tying for 28th at 308 strokes. The tie-for-28th matches his best career finish, which was previously achieved at the Hawkeye Invitational two weeks ago. Reinertson paced his way to a 6-over-par 78 in the final round. He shot 75 in the first and third rounds to go along with a second-round 80 for his 72-hole total.
Ross Dickson shot 81 on Sunday and tied for 42nd. The freshman carded rounds of 76, 80 and 75 on the first two days for a four-round total of 312. Dickson's tie-for-42nd is his third-best finish of the season in nine stroke play events.
Manuel Lavin and Scott Willman tied for 51st at 318. Lavin posted a 6-over-par 78 in the final round to go along with his 78, 77 and 85 in the first three rounds. Willman shot an 80 over the final 18 holes to go along with his 79, 76 and 83.
Ryan Grassel shot 331 in his first conference tournament and finished 58th. The sophomore, who was playing in his fourth tournament of the spring, closed with an 84 after rounds of 84, 83 and 80 on the first two days.
Illinois won its fourth consecutive Big Ten Championship, outlasting Indiana by three strokes at 1,175. The Fighting Illini's Luke Guthrie won his second straight individual conference championship at 283 strokes. He held off Northwestern's Sam Chien by four shots.
Big Ten Championship
April 27-29, 2012
Pete Dye Course at French Lick
Par 72 – 7,152 yards
Team Results
1. Illinois – 1,175 (301-291-292-291)
2. Indiana – 1,178 (293-304-294-287)
3. Northwestern – 1,186 (311-296-288-291)
4. Michigan State – 1,192 (292-303-296-301)
5. Purdue – 1,202 (306-297-308-291)
6. Iowa – 1,203 (305-309-287-302)
7. Minnesota – 1,215 (308-297-312-298)
8. Penn State – 1,216 (308-301-299-308)
9. Ohio State – 1,220 (299-316-304-301)
10. Michigan – 1,241 (312-309-306-314)
11. Wisconsin – 1,249 (317-326-300-306)
12. Nebraska – 1,251 (308-313-313-317)
Nebraska Results
T-28. Jordan Reinertson – 308 (75-80-75-78)
T-42. Ross Dickson – 312 (76-80-75-81)
T-51. Manuel Lavin – 318 (78-77-85-78)
T-51. Scott Willman – 318 (79-76-83-80)
58. Ryan Grassel – 331 (84-83-80-84)