Huskers hand out team awards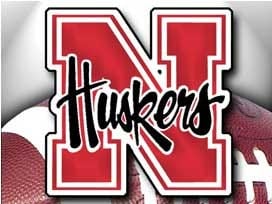 Posted By: Sports
Senior I-back Rex Burkhead, senior linebacker Will Compton and junior quarterback Taylor Martinez led the list of honorees as the Nebraska football team gathered for its 2012 banquet on Friday evening at the Cornhusker Hotel in Lincoln.
Burkhead, Compton and Martinez were three of five Huskers elected by their teammates as 2012 season captains. Joining Compton on defense was senior defensive tackle Baker Steinkuhler, while senior place-kicker/punter Brett Maher was also named a season captain. Burkhead and Maher were chosen as captains for the second consecutive year.
In addition to being chosen as a captain, Martinez was also named the Team's Most Valuable Player and the Offensive MVP. Martinez was a first-team All-Big Ten choice this season and leads the conference in both total offense and passing efficiency.
Compton was named the Huskers' Defensive MVP after leading the team with 101 tackles this season. Compton was also one of four Huskers to receive a Character Award. Maher was named the Huskers' Special Teams MVP for the second straight season. The Kearney native has made 19 field goals this season, while also handling kickoff and punting chores.
Despite an injury-plagued 2012 season, Burkhead was also chosen as the winner of the Chamberlin Trophy. The award dates back to 1967 and is voted on by members of the media. A Lincoln native, Steinkuhler was presented the Cletus Fischer Native Son Award, given annually to a senior who is a Nebraska native. The award is named in honor of long-time Nebraska offensive line coach Cletus Fischer who coached Steinkuhler's father, Dean, in the 1980s.
Senior linebacker Sean Fisher also received a pair of awards at the banquet. Fisher was honored with the Bobby Reynolds Award and the Tom Novak Trophy. The oldest of Nebraska's senior awards, the Novak Trophy dates back to 1950. The Chamberlin, Native Son and Novak awards will also be honored at the Outland Trophy Award ceremony in Omaha on Jan. 10.
Senior center Justin Jackson also received two awards at the banquet. The Roca, Neb., native won the Pat Clare Award and shared the prestigious Lifter of the Year Award with sophomore I-back Ameer Abdullah. Senior defensive back Justin Blatchford was presented the Walk-on of the Year Award. A full list of the banquet award winners is below.
Nebraska conducted its fifth practice in preparation for the Capital One Bowl on Friday afternoon in Lincoln. The Huskers will take Saturday and Sunday off, before resuming practice on Monday through Thursday of next week, then taking a Christmas Break. Nebraska departs for Orlando on Dec. 26.
Award Winners
Captains – Offense: QB Taylor Martinez, IB Rex Burkhead; Defense: LB Will Compton, DT Baker Steinkuhler; Special Teams: PK/P Brett Maher
Team MVP – QB Taylor Martinez
Offensive MVP – QB Taylor Martinez
Defensive MVP—LB Will Compton
Special Teams MVP—PK/P Brett Maher
Chamberlin Trophy—IB Rex Burkhead
Novak Trophy—LB Sean Fisher
Fischer Native Son Award —DT Baker Steinkuhler
Bobby Reynolds Award—LB Sean Fisher
Lifter of the Year Award—IB Ameer Abdullah and C Justin Jackson
Walk-on of the Year—DB Justin Blatchford
Offensive Scout Team MVP—Mike Moudy
Defensive Scout Team MVP—Thomas Brown
Character Award—LB Will Compton, LB Alonzo Whaley, WR Quincy Enunwa, CB Andrew Green
Pat Clare Award—C Justin Jackson
Husker Heart Award—Graham Stoddard
Burnell Student Manager Scholarship—Matt Hager