Huskers host run for brain cancer research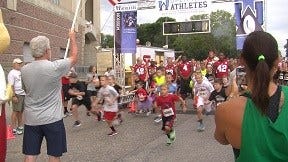 Posted By: Sarah Fili
sfili@klkntv.com
Sunday was more than a chance for husker fans to meet their heroes, but for players and fans alike to support pediatric brain cancer. More than 800 runners gathered for the third annual Uplifting Athletes Road Race outside Memorial Stadium.
The event brought together husker athletes and fans, to run a one mile race or a 5K, raising money for pediatric brain cancer research. Something the Husker football team keeps close to heart.
"Our football team is focusing on pediatric brain cancer so we have a goal of 30,000 dollars and we've already hit that," Kayla Conrad, a Life Skills Coordinator at UNL, said.
Husker players say while they may not know anyone personally affected, giving hope to families struggling with diseases is a priority for them.
"We love doing it, we love every opportunity we get to come out here and help the community," Jordan Westerkamp, a Junior and wide receiver at Nebraska, said.
For some players the event hits closer to home.
"I lost my mom my senior year of high school to MS so just to see people come out and show their love for a run for cancer, it means a lot to me," Jamal Turner, a Senior and wide receiver at Nebraska, said.
For the players they hope their positive attitude will rub off on those suffering and supporting.
"In their eyes, we're heroes. To see us come out and feel a certain way about a situation it's going to make them feel a certain way," Turner said.
Several families whose loved ones have fought the battle with pediatric brain cancer showed up today offering their support and gratitude. The Husker community standing behind them as one is what makes them hopeful that they will find a cure.
"We'll get there. I know we can do it. And I'd like to honor my son by being here, Nathan, and I believe we've gone a ways already and this is helping," Monica Waggoner, who lost her son to brain cancer, said.
As the husker fight song rolled on, support and smiles were all around. If you missed the event but would like to donate click here: https://give.upliftingathletes.org/lincoln/events/nebraska-football-uplifting-athletes-road-race-2015/e44383