Huskers in 12th at Kansas Invitational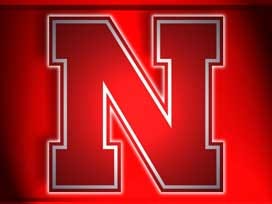 The Nebraska men's golf team is in 12th place after shooting 611 through two rounds at the Kansas Invitational at Alvamar Golf Club on Monday.
The Huskers opened with a 309 in the first 18 holes at the par-72, 7,092-yard layout, and followed it up with a 302 in the second round. NU is separated from sixth place by 10 strokes going into the final round.
Scott Willman led the team on the first day and sits in a tie for 17th. The senior from Prairie Village, Kan., fired 73 and 75 in the first two rounds and sits eight strokes off the pace at 148. Willman, who is only two shots outside of the top-10, is seeking to improve on last week's tie for 10th.
The Nos. 1 and 2 Huskers in the lineup this week, Manuel Lavin and Neil Dufford, are each tied for 39th after finishing at 153 through 36 holes. Lavin showed a three-stroke improvement from the first round to the second round, producing 78 and 75 in his first start as NU's No. 1 player. Dufford achieved a seven-stroke improvement with 80 and 73 in the first two rounds.
Ross Dickson is tied for 52nd after pacing his way to 157 strokes on Monday. The freshman posted 78 and 79 in the first and second round, respectively. Dickson's opening-round 78 ties his lowest score in five rounds as a Husker.
Senior Austin Zimmerman finished with 162 in opening rounds, and sits in a tie for 66th. Zimmerman shot 80 and 82 on Monday. Kevin Gillick, playing as an individual, is tied for 54th after the first day. The junior is at 158 after rounds of 81 and 77 at Alvamar Golf Club.
Louisiana-Lafayette leads the team competition by three strokes over Missouri State and Cal State Fullerton after firing 581 in two rounds. Leading the individual race is David Smith of South Dakota State. Smith shot 68 and 72 for a total of 140 with 18 holes to play.
The Huskers start teeing off on Hole No. 10 at 8:54 a.m., in Tuesday's final round. NU will be playing with Drake and Western Kentucky.
Kansas Invitational
Sept. 19-20, 2011
Alvamar Golf Club
Lawrence, Kan.
Par 72 – 7,092 yards
Team Leaderboard
1. Louisiana-Lafayette – 581 (297-284)
T-2. Missouri State – 584 (292-292)
T-2. Cal State Fullerton – 584 (287-297)
4. Kansas – 588 (299-289)
5. UMKC – 590 (295-295)
6. South Dakota State – 601 (302-299)
T-7. Oral Roberts – 603 (308-295)
T-7. North Dakota – 603 (310-293)
9. Western Illinois – 605 (307-298)
10. Western Kentucky – 609 (307-302)
11. Drake – 610 (309-301)
12. Nebraska – 611 (309-302)
Nebraska Scores
T-17. Scott Willman – 148 (73-75)
T-39. Manuel Lavin – 153 (78-75)
T-39. Neil Dufford – 153 (80-73)
T-52. Ross Dickson – 157 (78-79)
*T-54. Kevin Gillick – 158 (81-77)
T-66. Austin Zimmerman – 162 (80-82)