Huskers name Diaco as Defensive Coordinator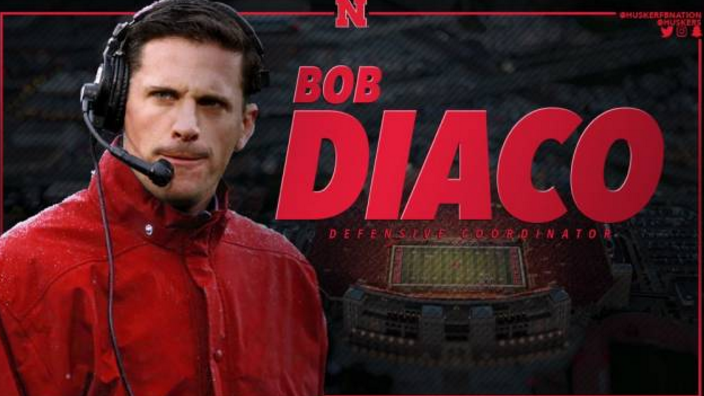 Posted By: Sports
Sports@klkntv.com
Courtesy: NU Media Relations
Nebraska Head Coach Mike Riley announced Saturday that Bob Diaco has been hired as the Huskers' defensive coordinator. The winner of the 2012 Broyles Award, Diaco is regarded as one of the top defensive minds in college football and has a proven track record of success at the highest level.
Diaco comes to Nebraska after three seasons as the head coach at the University of Connecticut. Previous to guiding the Husky program he had a highly successful four-year run as the defensive coordinator at Notre Dame. Diaco has roots in the Big Ten, twice earning All-Big Ten honors as a linebacker at Iowa in the mid-1990s.
"When we began looking for a new defensive coordinator, Bob Diaco quickly rose to the top of the list," Riley said. "He has coordinated a top-level defense, has proven himself as a great teacher and recruiter, and we are excited to have him join our football program. Bob is an energetic coach and is ready to get started immediately, beginning with hitting the recruiting trail to find future Blackshirts."
Diaco said joining Riley's staff and coaching at a tradition-rich program like Nebraska is an outstanding opportunity.
"I am honored to join Coach Riley and his staff at the University of Nebraska and am excited to become a part of one of the truly great programs in the history of college football," Diaco said. "Coach Riley has such great respect from everyone in football, and he is building something special here. I started my college football experience in the Big Ten and am thrilled to be back in this conference. I can't wait to get to work and help build a championship football program."
In 2015, the Connecticut defense was the key to the Huskies winning three of their final four regular-season games to reach the St. Petersburg Bowl. Diaco was the first head coach in UConn history to take the Huskies to postseason play just two years into their tenure. The Husky defense led the American Athletic Conference in total defense in 2015, ranked 15th nationally in scoring defense (19.5 ppg) and was seventh in the country in red zone defense.
The 2015 St. Petersburg Bowl marked the ninth postseason game for Diaco as a coach, including the 2012 BCS National Championship Game and the 2010 Sugar Bowl. He also played in three bowl games at Iowa.
Diaco was regarded as one of the nation's top coordinators during his time at Notre Dame from 2010 to 2013, when he led the Irish defense under Head Coach Brian Kelly. In addition to his defensive coordinator role, Diaco also held the title of assistant head coach in 2012 and 2013.He was the 2012 winner of the Frank Broyles Award, given to the top assistant college football coach in the country and was a semifinalist for the award in 2011. In 2012, Diaco's Irish defense ranked among the top 10 in the Football Bowl Subdivision in 12 different categories as the school played in the BCS National Championship Game and finished with a 12-1 record.
The defense led the way to the BCS title game in 2012, as Diaco's unit ranked second in the FBS in scoring defense allowing just 12.77 points per game. Notre Dame only allowed 15 offensive touchdowns, four fewer than any other FBS school. The Irish held six opponents without an offensive touchdown and nine foes to one or fewer offensive touchdown.
During his four seasons in South Bend, the Fighting Irish defense allowed an average of 19.08 points per game, which ranked as the ninth-best average over that time among FBS programs.
Diaco's 2011 defense ranked in the top 30 in both scoring defense (24th, 20.7) and total defense (30th, 344.7). In his first season at Notre Dame in 2010, Diaco switched defensive schemes from a blitzing 4-3 defense the Irish utilized in 2009 and installed a 3-4 no-crease defense. Diaco's defense became immediately better as the Irish allowed 5.69 fewer points per game and 40.5 fewer yards per game in 2010 than 2009.
Diaco spent one season as the defensive coordinator on Kelly's Cincinnati staff in 2009, helping the Bearcats to a trip to the Sugar Bowl. He also served at Virginia (2006-08) as the linebackers coach and special teams coordinator.
A native of Cedar Grove, N.J., Diaco began his coaching career in 1996-97 as a graduate assistant at his alma mater, the University of Iowa. He then served on the staffs of Western Illinois (1999-2000) as the special teams coordinator and running backs coach, Eastern Michigan (2001-2003) working with the same positions and Central Michigan (2005) as the co-defensive coordinator and linebackers coach.
Diaco was a two-time All-Big Ten selection at Iowa as a linebacker under Hall of Fame coach Hayden Fry and was named the team's co-MVP in 1995, starting in all 23 games over his junior and senior seasons.
Diaco and his wife, Julia, have two sons, Angelo and Michael, and a daughter, Josephine.
Diaco's Coaching Resume
2017 Nebraska, Defensive Coordinator
2014-16 Connecticut, Head Coach
2012-13 Notre Dame, Defensive Coordinator/Assistant Head Coach
2011 Notre Dame, Defensive Coordinator/Linebackers
2010 Notre Dame, Defensive Coordinator/Inside Linebackers
2009 Cincinnati, Defensive Coordinator/Inside Linebackers
2006-08 Virginia, Linebackers/Special Teams Coordinator
2005 Central Michigan, Co-Defensive Coordinator/Linebackers
2004 Western Michigan, Linebackers/Special Teams
2003 Eastern Michigan, Outside Linebackers/Special Teams
2002 Eastern Michigan, Linebackers/Special Teams
2001 Eastern Michigan, Running Backs/Special Teams
1999-2000 Western Illinois, Running Backs/Special Teams
1996-1997 Iowa, Graduate Assistant