Huskers Outlast Cyclones in 3-0 Victory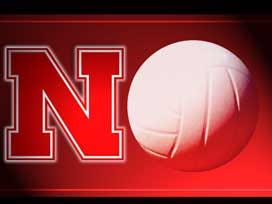 Posted by: Sports
The Nebraska volleyball team outlasted the Iowa State Cyclones in a 3-0 (25-20, 26-24, 27-25) win on Saturday in front of 2,468 fans at the NU Coliseum. With the victory, the Huskers improved their spring record to 2-0.
Kelsey Robinson led the Husker offense, notching 10 kills on 35 swings. Morgan Broekhuis and Meghan Haggerty both recorded seven kills, while Alexa Strange notched 23 assists. The Huskers hit. 148 as a team, while Iowa State posted a .152 hitting percentage. NU out-blocked ISU 9-7, but were out-dug 56-39.
The Huskers took an early 4-2 lead on an ace by Kadie Rolfzen, while another ace coming from Alicia Ostrander made it 11-5, NU. Hayley Thramer used a solo block to make it 13-6, Huskers, before Iowa State strung together a run to cut it to 14-11 and forced NU to call a timeout. A kill by Broekhuis put Nebraska up 17-12, while an error from Iowa State made it 23-18, NU. Nebraska held on for the 25-20 first-set win over the Cyclones.
Broekhuis and Robinson led the Huskers in the first set with three kills each, while Strange paced the offense with seven assists. Nebraska hit .212 as a team, holding Iowa State to a .150 hitting percentage and out-blocking the Cyclones 4-1.
The Huskers took a 4-3 lead in the second set on a solo block by Robinson, but the Cyclones came back to take a 9-6 advantage. A double-stuff block by Broekhuis and Thramer tied the set at 11-11, but ISU stretched its lead to 21-16. Nebraska would inch back, aided by an error from ISU to make it 23-20, Iowa State, but the Huskers rallied to the very end, winning the set 26-24.
Broekhuis, Kelsey Fien and Robinson all had three kills in the second set, guiding by nine assists from Strange. Nebraska hit just .050 in the set, but held Iowa State to a -.029 hitting percentage. Nebraska was out-blocked 3-5 and out-dug 12-18.
Nebraska trailed 7-3 early in the third set, but an ace by Broekhuis tied the set up at 7-7. A net violation on the Cyclones made it 10-10, while a double-stuff block by Strange and Hall made it 18-17, Huskers. Robinson made it 20-19, NU, while ISU came back to take a 23-22 lead. A kill by Robinson tied the set again at 25-25, as she terminated two more kills to help the Huskers take the third set 27-25.
Haggerty and Robinson both had four kills in the set, while Strange notched seven assists. Nebraska hit .190 in the set, while Iowa State hit .280.
Nebraska wraps-up its home spring schedule on Friday, April 12 as Creighton will come to the Coliseum for a 7 p.m. match.
Source: UNL Sports Information Department