Huskers Picked to Host NCAA First and Second Rounds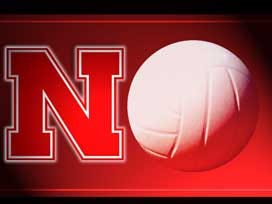 Posted by: Sports
The Nebraska volleyball team will spend the opening weekend of the postseason at home for the ninth straight season as the NU Coliseum was chosen as one of 16 sites for the NCAA first and second-round play next weekend. The Huskers will be making their 31st NCAA Tournament appearance and they will go in as the No. 4 overall seed among the 64 teams.
Play will start on Thursday, Nov. 29 at 4:30 p.m. when the Kansas State Wildcats (21-8) of the Big 12 Conference will take on the Northern Iowa Panthers (24-9) of the Missouri Valley Conference. Nebraska (23-6) will then take the court during Thursday's second match and will face the University of Maryland Eastern Shore Hawks (28-5), who recently won the Mid-Eastern Athletic Conference title. The Huskers' match will start at 7 p.m. or 30 minutes after the conclusion of the first match.
The second round will take place on Friday, Nov. 30 at 7 p.m., as Thursday's winners will compete for the right to move on to the Omaha Regional the following weekend. The winner out of Lincoln will take on either Washington, Central Arkansas, Santa Clara or Hawaii, who will be playing in Seattle, Wash.
Tickets for the first and second rounds in Lincoln are on sale on Huskers.com this evening and will be available Monday morning at 8 a.m. by calling the NU Ticket Office at 800-8-BIGRED or visiting in person at the NU Athletic Ticket Office. All-session ticket prices are set at $34 (reserved) and $30 (general admission) and include the two first-round games, as well as the second-round matchup between the first-round winners.
Nebraska has never faced University of Maryland Eastern Shore. The Huskers and Kansas State have met a total of 86 times, with Nebraska leading the all-time series at 82-4. The Huskers lead the all-time series with Northern Iowa 5-0-1.
The 2012 season marks the 28th time that Lincoln has played host to first and second round competition. Last season, Nebraska hosted the first and second rounds at the NU Coliseum, where they swept Jackson State, but fell to Kansas State in the second round.
Nebraska holds a 23-6 record in 2012 and clinched a tie for second in the Big Ten Conference with Saturday's 3-1 win over Northwestern. The Huskers are 83-27 (.754) in 30 previous NCAA Tournament appearances, ranking second among NCAA schools in both wins and winning percentage. The Huskers were one of seven Big Ten schools to qualify for the tournament, as No. 1 Penn State and No. 8 Minnesota will play at home in the first two rounds, while Ohio State, Purdue, Michigan State and Michigan will be on the road.
NCAA First and Second Round Schedule
First Round – Thursday, Nov. 29
4:30 p.m. | Kansas State vs. Northern Iowa
7 p.m.* | University of Maryland Eastern Shore vs. Nebraska
*or 30 minutes following the conclusion of the 4:30 p.m. match
Second Round – Friday, Nov. 30
7 p.m. | First Round Winners