Huskers-PSU Set for Friday at 11 a.m. on ESPNU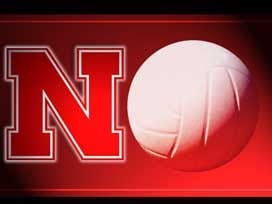 Posted By: Sports
Sports@klkntv.com
Courtesy: NU Media Relations
The top-seeded Nebraska volleyball team will host 16th-seeded Penn State in a regional semifinal this Friday at 11 a.m. at the Bob Devaney Sports Center. The match will be televised on ESPNU. The regional final on Saturday will be played at 3 p.m. and will be on ESPNU as well.
The other regional semifinal match in Lincoln will feature eighth-seeded Washington against Arizona, which upset ninth-seeded Michigan State on Saturday night. That match will be streamed on ESPN3.com.
The Huskers (29-2) earned their nation-leading 32nd appearance in a regional with a 3-0 sweep over TCU on Saturday night. Nebraska will be hosting its first regional in Lincoln since 2013. The Huskers will meet Penn State for the third time in a span of 36 days, having won 3-2 in University Park on November 4 and 3-0 in Lincoln on November 16.
Nebraska has faced Washington in regionals two years in a row and has UW in its regional for a third straight year. The teams have met in regionals five times in the past eight years. The Huskers haven't faced Arizona since 2002. The teams met in a regional final in Lincoln in 2000, head coach John Cook's first year at Nebraska. The Huskers won 3-0 on their way to the national championship.
Regional winners will advance to the national semifinals and championship final co-hosted by the Ohio State University and the Greater Columbus Sports Commission at Nationwide Arena in Columbus, Ohio on December 15 and 17. Both national semifinal matches as well as the championship match will be broadcast by ESPN2.
A very limited number of tickets for the Lincoln Regional, including standing-room only, will go on sale Monday at 10 a.m. online at Huskers.com or by calling the Nebraska Athletics Ticket Office.
2016 NCAA Volleyball Regional Schedule
Lincoln Regional – at Lincoln, Nebraska
No. 1 Nebraska* (29-2) vs. No. 16 Penn St. (24-9) at 11 a.m. on ESPNU
No. 8 Washington (28-4) vs. Arizona (20-14) at 1:30 p.m. on ESPN3
Lincoln Regional Final – 3 p.m. on ESPNU
Madison Regional – at Madison, Wisconsin
No. 3 Wisconsin* (27-4) vs. Ohio St. (22-12) at 1 p.m. on ESPNU
No. 6 Stanford (23-7) vs. Florida St. (26-5) at 3:30 p.m. on ESPN3
Madison Regional Final – 5 p.m. on ESPNU
Austin Regional – at Austin, Texas
No. 4 Texas* (27-4) vs. No. 13 BYU (29-3) at 3 p.m. on ESPNU
No. 12 Michigan (24-10) vs. Creighton (28-6) at 5:30 p.m. on ESPN3
Austin Regional Final – 7 p.m. on ESPNU
Minneapolis Regional – at Minneapolis, Minnesota
No. 2 Minnesota*(27-4) vs. No. 15 Missouri (27-5) at 7:15 p.m. on ESPN3
No. 7 North Carolina (29-3) vs. No. 10 UCLA (26-6) at 9:45 p.m. on ESPNU
Minneapolis Regional Final – 9 p.m. on ESPNU
* Indicates host institution
All times are listed in Central Standard Time (CT)