Huskers Set for Pair of Big Ten Road Duals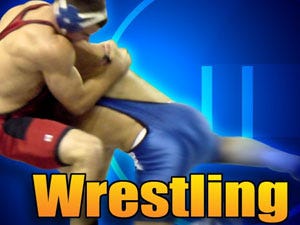 Posted By: Sports
The No. 17 Nebraska wrestling team (6-3) resumes Big Ten competition this weekend against two top 20 teams and will look to earn its first conference dual win of the season.
The Huskers travel to Ann Arbor, Mich. on Friday to face No. 11 Michigan at 6 p.m. The match will be on Big Ten Network and it will mark Nebraska's first television appearance in 2012-13. On Saturday the Huskers face No. 18 Northwestern in Evanston, Ill. at 7 p.m. The match will be available on Big Ten Digital Network at the link provided above.
In Nebraska's last outing, it tied for 15th at the Midlands Invitational in Evanston, Ill., Dec. 29-30. Sophomore Robert Kokesh led the team in dominating fashion, winning six matches en route to the 174-pound title. Kokesh is 22-1 in the season and will start this weekend against two nationally ranked opponents.
Sophomore Spencer Johnson will see his first action of the season against the Wolverines at heavyweight. Last season as a redshirt freshman, Johnson went 23-6 at 197 pounds. He will face two ranked opponents this weekend.
Sophomore James Green will return to the Husker lineup at 157 pounds following his injury at the Cliff Keen Invitational on Dec. 1. Green is 12-2 on the season with a 5-0 record in dual competition. His opponent on Sunday will be No. 2 Jason Welch of Northwestern, who holds a perfect 17-0 record this season.
Redshirt freshman Austin Wilson (165) will start for the Huskers following a 4-2 showing at the Midlands Invitational. Wilson is 16-6 on the season with a 6-1 record in duals.
Nationally ranked Huskers Josh Ihnen (eighth at 184) and Jake Sueflohn (eighth at 149) did not compete at Midlands, but will return to action this weekend against the Wolverines and Wildcats. Ihnen holds a 15-2 record this season with a 7-2 dual mark. Sueflohn is 14-2 with a 5-1 dual record.
Eric Coufal earned his eighth dual start of the season and will be the lone freshman in the NU lineup this weekend. He will represent the Huskers at 125 pounds.
Senior Ridge Kiley will start for Nebraska at 141 pounds for the seventh time in duals this season. He is 9-6 on the season with a 4-2 dual mark. Juniors Shawn Nagel (133) and Caleb Kolb (197) return to the NU lineup for the 10th time this season in duals.
Last Time Out: Kokesh Captures Midlands Title
Sophomore Robert Kokesh won both his matches on Sunday, Dec. 30 at the Midlands Invitational en route to the individual crown at 174 pounds.
Nebraska tied for 15th with 39 points. Illinois took home the team title with 99.5 points, edging Virginia Tech by two.
Following a 4-0 Saturday, Kokesh picked up right where he left off on Sunday with a 10-2 major decision over Northwestern's Lee Munster in the semifinals. In the championship match, the Wagner, S.D. native won an 8-4 decision over Lehigh's Nate Brown.
Over the course of his championship run, Kokesh outscored his opponents 46-7 and added two pins to extend his number to eight on the season. He improves to 22-1 for the 2012-13 campaign after earning his 17th consecutive victory on Sunday.
Redshirt freshman Austin Wilson advanced to the second day of the Midlands Invitational in the wrestleback bracket at 165 pounds. Following a 4-1 showing on Saturday, Wilson dropped a 7-5 decision to Rider's Ramon Santiago on Sunday.
Nine additional Huskers competed at the Midlands Invitational, but did not advance to Sunday's competition. Freshman Collin Jensen (unattached) opened his tournament with two consecutive victories at heavyweight. Following a first-round 6-2 decision over Maryland's Carl Buchholz, Jensen pinned Penn's Steven Graziano in 2:32. However the freshman suffered a loss in the third round to Northwestern's Michael McMullan, 7-0, before falling in the wrestleback bracket to Michigan's Justin Dozier, 10-6.
At 197 pounds, junior Caleb Kolb also went 2-2. Kolb lost a 3-1 decision to Lions WC's Hudson Taylor before reeling off two victories in the wrestleback bracket. His tournament came to an end with a 2-1 loss to Purdue's Braden Atwood.
Freshmen Tim Lambert (unattached) and Eric Coufal each won their first-round matches but suffered back-to-back losses at 125 pounds. At 141 pounds, senior Ridge Kiley and sophomore Skylar Galloway lost their first-round matches before each winning a match in the wrestleback brackets. However they each lost in the following round. Sophomore Brandon Wilbourn (157) went 1-2 on Saturday and Shawn Nagel (133) went 0-2.
Kokesh Earns Weekly Big Ten Honor
Sophomore Robert Kokesh earned Big Ten Co-Wrestler-of-the-Week accolades with Northwestern's Jason Welch, the conference announced on Wednesday, Jan. 2.
Kokesh took home the Midlands Invitational title at 174 pounds on Sunday, Dec. 30, winning six matches to extend his winning streak to 17 and improve his record to 22-1 on the season. The Wagner, S.D. native outscored his opponents 46-7 and added two pins to extend his number to eight on the season. He won two more of his matches by major decision and one by technical fall in addition to his pins.
Kokesh earned the 50th win of his collegiate career in Saturday's quarterfinals and now has 52 as a Husker. He led the Nebraska wrestling team to a tie-for-15th place finish at the Midlands Invitational with the individual crown.
Kokesh was the last Husker to win Big Ten Wrestler of the Week when he took home the honor on Dec. 13, 2011.
Scouting the Michigan Wolverines
No. 11 Michigan is 6-1 on the season and will open Big Ten Conference competition against Nebraska. The Wolverines' lone loss came against Central Michigan, 21-16, on Nov. 6. Michigan has victories against nationally ranked opponents Pittsburgh and Oregon State along with four dominating wins over Olivet, Stanford, Duke and Eastern Michigan. The Wolverines finished eighth at the Midlands Invitational, Dec. 29-30.
Michigan has six wrestlers ranked in the latest InterMat poll, which was released on Jan. 8. Dan Yates is the highest ranked Wolverine at 11th at 174 pounds. Eric Grajales is No. 12 at 149 and Taylor Massa is 13th at 165 to round out the top 15. At 141 pounds, Camryn Jackson is 18th and at 197, Max Huntley is No. 18. Ben Apland is 19th at heavyweight.
The Wolverines are coached by Joe McFarland, who is in his 14th year as head coach. McFarland has won 159 matches in his time at Michigan.
Scouting the Northwestern Wildcats
No. 18 Northwestern is 4-3 on the season with an 0-2 record in Big Ten duals. All three of the Wildcats losses came against ranked opponents as Minnesota, Edinboro and Ohio State took them down. Northwestern's victories are over Stanford, Stevens Tech, Duke and Clarion. The Wildcats hosted the Midlands Invitational, Dec. 29-30, and finished seventh.
The Wildcats are led by six nationally ranked wrestlers, including No. 2 Jason Welch at 157 pounds. Mike McMullan (HWT) and Lee Munster (174) are also in the top 10 as McMullan is eighth and Munster is No. 9. At 165 pounds, Pierce Harger is 13th, while Levi Mele (133) and Dominick Malone (125) are 17th and 18th, respectively.
Northwestern is coached by Drew Pariano, who is in his third year as head coach. Pariano has won 33 matches with the Wildcats.
Huskers in the Rankings
Nebraska has four wrestlers ranked in the top 10 of the latest InterMat poll, released on Jan. 8. Sophomore Robert Kokesh achieved the highest ranking at fourth at 174 pounds. At 157 pounds, sophomore James Green is ranked No. 7. Jake Sueflohn (149) and Josh Ihnen (184) are both eighth in their respective weight classes.
The WIN Magazine rankings were released Jan. 7 and feature the same four Huskers in its top 15. Kokesh leads the way at third, while Green and Ihnen each earned seventh-place rankings. Sueflohn is 11th. In the Amateur Wrestling News poll, released on Jan. 8, three Huskers are in the top 10. Kokesh is third, while Ihnen is No. 7 and Sueflohn is eighth.
As a team, Nebraska is ranked in the top 20 of the InterMat, WIN Magazine and NWCA/USA Today Coaches rankings. The Huskers are 12th in the InterMat poll, 13th in WIN Magazine and 17th in the NWCA poll.
Sophomores Showing Leadership
Sophomores James Green (157), Robert Kokesh (174) and Jake Sueflohn (149) are three of Nebraska's four nationally ranked starters in InterMat's latest poll. The trio of sophomores are all in the top 10 of their respective weight classes and all qualified for the NCAA Championships last season.
Green is 12-2 on the season with a 5-0 mark in dual competition despite not competing since Dec. 1. Kokesh is 22-1 and leads all starters with eight pins this season. He is 8-1 in duals and took home the Midlands Invitational title on Dec. 30. Sueflohn has a 14-2 record in 2012-13, which includes a 5-1 mark in duals.
Fellow sophomores Skylar Galloway (141) and Brandon Wilbourn (157) have also appeared in the NU lineup this season. Galloway is 7-5 with a 2-3 dual mark, while Wilbourn is 11-3 with a 2-1 dual record.
The sophomore class leads the team with 22 individual dual victories from five different starters. The seniors are 12-6 on the season with four different Huskers appearing in the lineup. The juniors and redshirt freshman have each started two different wrestlers and have won eight matches. Three freshmen have started and earned a 1-9 record.
Wilson Stepping Up at 165
Redshirt freshman Austin Wilson has started seven of Nebraska's nine duals so far this season and will compete this weekend against Michigan and Northwestern at 165 pounds.
In what was considered the most competitive weight class heading into the season, Wilson has stepped up with a 6-1 dual mark. His lone loss was an 8-6 decision against No. 9 Cody Yohn of Minnesota on Nov. 16. Wilson is 16-6 on the season, including a 4-2 showing at the Midlands Invitational, Dec. 29-30.
Senior Tyler Koehn and sophomore Brandon Wilbourn have also started for the Huskers at 165 this season. Koehn is 4-2 with a 1-0 mark in dual competition, while Wilbourn is 11-3 with a 2-1 dual mark. Wilbourn has also competed at 157 this season.
Galloway, Kiley Battling at 141
Sophomore Skylar Galloway and senior Ridge Kiley have been competing for the starting position at 141 pounds this season with Kiley starting in six duals and Galloway starting in five duals.
Galloway owns a 2-3 record in duals with victories against Wyoming's Kyle Komata and South Dakota State's Ben Gillette. He is 7-5 on the season with a first-place showing at the Warren Williamson/Daktronics Open on Nov. 4.
Kiley is 4-2 in duals this season with a 9-6 record overall. He finished seventh at the Cliff Keen Invitational, Nov. 30-Dec. 1.
Both wrestlers went 1-2 at the Midlands Invitational, Dec. 29-30. Kiley will start this weekend against Michigan and Northwestern.
Huskers Add Three Wrestlers for 2013-14
Nebraska Head Coach Mark Manning announced the signing of three wrestlers on Wednesday, Nov. 21, who will join the Huskers in 2013-14.
Anthony Abidin, Dix Hills, N.Y. (Nassau/Half Hollow Hills East/Calhoun) – 133/141
Abidin joins the Huskers after winning the NJCAA national title at 133 pounds as a freshman in 2012. Wrestling for Nassau Community College, Abidin finished the season ranked 12th following a 28-4 season before making a run to the championship match where he won a 7-4 decision over Iowa Central's Brandon Wright. Abidin will redshirt this season at Nassau and have three years of eligibility left with Nebraska.
Before Nassau, Abidin wrestled at Half Hollow Hills East High School in Dix Hills, N.Y. As a senior, he went 36-1 en route to the state crown at 125 pounds. Abidin recorded 21 pins, five major decisions and four technical falls during 2011. Abidin also wrestled at Calhoun High School.
Colton McCrystal, Sergeant Bluff, Iowa (Sergeant Bluff-Luton) – 133
McCrystal comes to Nebraska with experience at Sergeant Bluff-Luton in Sergeant Bluff, Iowa, where he won the Class 2A state title at 126 pounds as a junior last season. McCrystal compiled a 22-1 record during the season with 11 pins. He is currently ranked No. 20 in the InterMat national rankings at 132 pounds with a 143-8 mark entering his senior season. McCrystal earned a pair of runner-up finishes at the state championship as a freshman and sophomore, competing at 103 pounds in 2010 and 112 in 2011.
Pat Downey, Baltimore, Md. (Oviedo/North County/Loch Raven/Mount St. Joseph) – 184
Downey is a two-time Maryland state champion who is set to join the Huskers in 2013-14. He won his first state title as a sophomore at 160 pounds for Loch Raven, capping an undefeated 35-0 season. As a junior, he compiled a perfect 34-0 record en route a second consecutive state title, this time for North County at 171 pounds. As a freshman, Downey earned a sixth-place finish at 145 pounds while wrestling at Mount St. Joseph.
In addition, Downey won the silver medal at the 2012 FILA Junior World Championships in September. He has spent the last two years at the Olympic Training Center in Colorado Springs, Colo. He will have four years of eligibility at Nebraska.
Huskers Face Challenging Schedule
Nebraska faces a challenging schedule this season, with nine matches against teams that are currently ranked in the NWCA/USA Today Coaches Poll, released on Jan. 8.
The Huskers have already wrestled against No. 3 Minnesota, No. 15 Wyoming, No. 22 Wisconsin and No. 23 Maryland. In its most recent dual, the Huskers lost to Maryland, 18-17, on Sunday, Dec. 16 at the Grapple at the Garden in New York, N.Y. The Huskers also fell to Minnesota, 27-7, and Wisconsin, 19-17, but defeated Wyoming, 22-15, in Laramie, Wyo.
The Huskers will travel to face two of the top five teams in the country and will host No. 6 Illinois on Jan. 18. Nebraska will journey to Michigan for a showdown with the No. 11 Wolverines on Friday and will wrestle No. 18 Northwestern the following day in Evanston, Ill. On Jan. 27, the Huskers will wrestle No. 1 Penn State on the road before traveling to Iowa, Feb. 10, to face the No. 4 Hawkeyes.
On March 9-10, Nebraska will make its second appearance in the Big Ten Championships in Champaign, Ill. Last season the Huskers produced four top-five finishers. The 2012-13 season concludes March 21-23 at the NCAA Championships in Des Moines, Iowa. Last year Nebraska finished 21st with 28 points. James Green (157) and Josh Ihnen (184) earned All-America honors, as eight Huskers qualified for the 2012 NCAA Championships.
BTDN to Feature Huskers Eight Times
Nebraska will be featured eight times on the Big Ten Digital Network and once on Big Ten Network in 2012-13. Upcoming home matches on BTDN include the Jan. 18 showdown against Illinois and the Feb. 1 dual against Michigan State. Road matches against Northwestern (Jan. 12), Penn State (Jan. 27) and Iowa (Feb. 10) will also be streamed through BTDN.
The Huskers were featured on BTDN for their home matches against Minnesota, Arizona State and Wisconsin.
Friday's dual between Nebraska and Michigan in Ann Arbor, Mich. will be televised on Big Ten Network. The match is set for 6 p.m. The second day of the Big Ten Championships, March 10, will also be televised on BTN.
Throughout the season, go to the BTN/BTN2Go/BTDN Olympic Sports TV schedule page for the most up-to-date information on the BTN and BTDN wrestling schedules.
Former Husker Burroughs Wins Gold Medal in Freestyle
Former Husker Jordan Burroughs won the gold medal at 74 kilograms (163 pounds) at the 2012 Olympics in London. Burroughs defeated Iran's Sadegh Saeed Goudarzi 3-0 in the gold medal match.
Burroughs, a two-time NCAA champion at Nebraska, won four matches on Friday en route to becoming the first freestyle gold medalist in school history. Burroughs adds the gold medal to his list of accomplishments after Nebraska, which includes winning the 2011 FILA World Championships.
After taking a bye in the round of 32, Burroughs dominated Puerto Rico's Francisco Soler Tanco. Burroughs won the first round 4-0 before taking the second round 6-0. With the win, he advanced to the quarterfinals to face Matthew Gentry of Canada.
In a much closer match, Burroughs survived the scare from Gentry. Burroughs posted a 2-1 victory in the first round before tying the second round and winning the match.
In the semifinals, Burroughs was challenged by Russia's Denis Tsargush, but prevailed in the third round. The Sicklerville, N.J., native won the first round 3-1, but fell 2-0 in the second round. He bounced back in the third round, however, for a 2-1 win.
Burroughs then shut out Goudarzi in the gold medal match, winning 1-0, 1-0.
Burroughs, who won the 2011 Hodge Trophy for best collegiate wrestler, was coached by Nebraska Head Coach Mark Manning at the London Olympics.
Burroughs joins Dan Brand (1964), Bill Scherr (1988), Rulon Gardner (2000 and 2004) and Matt Lindland (2000) as the only former Huskers to earn Olympic medals. Brand and Scherr each took bronze in freestyle, Gardner won gold (2000) and bronze (2004) in Greco-Roman and Lindland earned silver.