Huskers Set School Record with 23rd Win at Wisconsin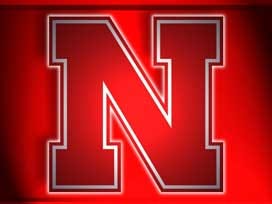 The No. 18 Nebraska women's tennis team rolled to a 6-1 win to close the regular season with its school-record 23rd victory on Sunday at the Nielsen Tennis Stadium.
Nebraska, 23-3 overall, finished its first Big Ten Conference regular season with a 9-2 mark to claim the No. 4 seed in this week's Big Ten Tournament at Ohio State.
The Huskers earned a first-round bye, and will play the winner of Thursday's match between fifth-seeded Purdue and 12th-seeded Michigan State. Nebraska's opening match of the 12-team tournament will be held on Friday, April 27, at 9 a.m. (central) at the Varsity Tennis Center in Columbus, Ohio.
Wisconsin finished the regular season with a 12-11 overall record and a 3-8 Big Ten mark. The Badgers earned the No. 10 seed in the conference tournament.
Nebraska bolted to an impressive start against the Badgers on Sunday, taking all three doubles matches to earn the first point of the match.
NU's No. 53 doubles pair of Madeleine Geibert and Stefanie Weinstein worked their way to an 8-5 win over Alaina Trgovich and Hannah Berner at No. 1 doubles.
Patricia Veresova and Mary Weatherholt cruised to an 8-3 win over Wisconsin's Angela Chupa and Aleksandra Markovic at No. 2.
The Huskers completed the doubles sweep with an 8-5 win by Izabella Zgierska and Janine Weinreich over UW's Nova Patel and Sarah Loebel at No. 3.
On the singles court, No. 45 Weatherholt rolled to a 6-1, 6-1 win over Trgovich, before Geibert suffered a 6-2, 6-2 loss to UW's Berner at No. 2.
After that, it was all Huskers, as Veresova cruised to a 6-2, 6-0 win over Sarah Loebel, and Weinstein defeated Patel, 6-2, 6-1.
No. 100 Janine Weinreich notched another straight-set win, 6-1, 6-4, at No. 5, before NU's Jennifer Holmberg breezed by Lauren Gruber, 6-0, 6-1 at No. 6.
Final results
No. 18 Nebraska 6 – Wisconsin 1
Doubles
1.) #53 Madeleine Geibert / Stefanie Weinstein (NEB) def. Alaina Trgovich / Hannah Berner (UW), 8-5
2.) Patricia Veresova / Mary Weatherholt (NEB) def. Angela Chupa / Aleksandra Markovic (UW), 8-3
3.) Izabella Zgierska/ Janine Weinreich (NEB) def. Sarah Loebel / Nova Patel (UW), 8-5
Order of finish: 2, 1, 3
Singles
1.) #45 Mary Weatherholt (NEB) def. Alaina Trgovich (UW), 6-1, 6-1
2.) Hannah Berner (UW) def. Madeleine Geibert (NEB), 6-2, 6-2
3.) Patricia Veresova (NEB) def. Sarah Loebel (UW), 6-2, 6-0
4.) Stefanie Weinstein (NEB) def. Nova Patel (UW), 6-2, 6-1
5.) #100 Janine Weinreich (NEB) def. Aleksandra Markovic (UW), 6-1, 6-4
6.) Jennifer Holmberg (NEB) def. Lauren Gruber (UW), 6-0, 6-1
Order of finish: 1, 6, 2, 4, 5, 3